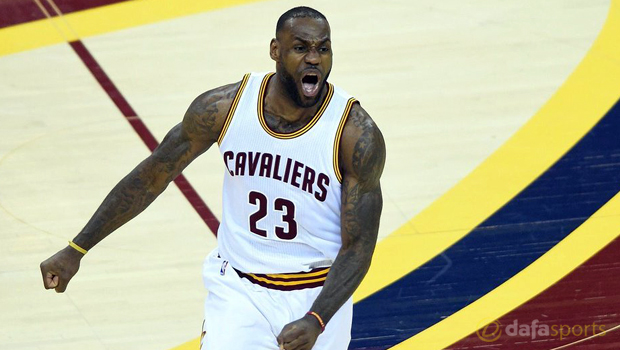 For many fans wondering if Kevin Love could make it to the game 3, the coaching staff confirms that he will sit tonight due to concussion suffered in the last game. Considering the interview with LeBron James, it's a do-or-die game for

Cleveland Cavaliers

to upsurge from a 2-0 loss against Golden State Warriors.
Missing one of the keys in the game and with Kyrie Irving shooting percentage (12 of 36) abysmal in the last two games, optional thinking would be LB James in the destruction mode to sustain scoring and team's aggressiveness.
During the first quarter, CLE leads by 17 points combining James and Irving (24 pts). While home team heats up, Golden State Warriors struggles with turnovers and missed shooting opportunities from Splash Brothers Curry and Thompson.
During the 2nd quarter of the game, the lead cuts down in 8 points that ended up at 43-51 courtesy of Andre Igoudala and Klay Thompson points from behind the arc.
In the 3rd quarter, Cleveland lead expands to 20 points at 69-89. Kyrie Irving fails to deliver from behind the arc but scores in the perimeter from time to time. Iman Shumpert hit a 3-pointer while LeBron James continues nailing points from offensive runs.
On the other hand the combined points of Tristan Thompson and J.R. Smith contribute a lot to Cavs. Meantime, GSW make series of turnovers and struggles to convert offensive rebounds into points. Before the 3rd quarter ended at 00:31, Richard Jefferson seals the game with a dunk.
During the 4th quarter Cleveland leads by 30points (largest lead in the game) and mercifully ends the series still down by 1 (GSW 2-1). Before the Final, Cleveland's bench players enter for starters and scores.
At 0:51, Mo Williams nails a 3-pointer which seals the lead at 30-point mark. Considering the stats, Cleveland is now 8-0 in home post season of which they've won 7 straight games.
Kyrie Irving so far got it going in the early quarters and LeBron James in the 2nd half with (62 combined points). On June 10, Golden State Warriors will be facing the Cavs once again for Game 4.
Leave a comment