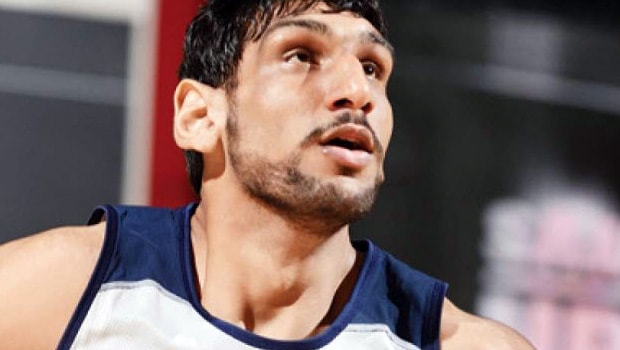 Satnam Singh Bhamara, who had become the first Indian to be drafted into an NBA team in 2015, has been banned for two years by the National Anti-Doping Agency (NADA) for violating doping laws.
NADA's disciplinary panel charged him with consumption of Higenamine, a beta-2 agonist, which is a prohibited specified substance.
Bhamara had accepted the provisional suspension by NADA on November 19, 2019 and nobody had the idea that it would turn out to be a year-long hearing as the COVID-19 pandemic interfered in between.
The disciplinary panel found Bhamara guilty of not exercising due caution "in verifying the composition of the supplement he was consuming". They did say that he didn't use the substance intentionally to gain unfair advantage over other athletes in the competition, but he was "negligent" enough in going with his duties as a senior athlete, despite being fully aware of the NADA rules and regulations.
Bhamara's ban period will begin from November 19, 2019 and will end on November 18, 2021. He won't be able to represent India during this time period and the verdict won't allow him to play in international leagues or appear in try outs as well.
The disciplinary panel ruled in its verdict that: "That the hearing panel holding that the athlete has not intentionally taken the prohibited substance shall not absolve the athlete from his responsibilities under the anti-doping rules 2015. The athlete should have examined and checked the ingredients of the supplement before consuming the same. This caution was required from him being a senior athlete but he has completely failed in exercising caution and prudence and was negligent in performing his duties as an athlete."
It added: "The examination offered by the athlete shows his negligence which is no ground to exonerate him for his act of consuming the specified prohibited substance. The hearing panel holds that since the athlete in the present case was negligent in consuming the specified prohibited substance without verifying its composition and elements and without disclosing the same in the doping control form, he is liable for sanctions under article 10.5.1 for ineligibility for a period of two years. The period of his ineligibility for the period of two years shall commence from the date of acceptance of provisional suspension i.e. 19.11.2019."
Leave a comment