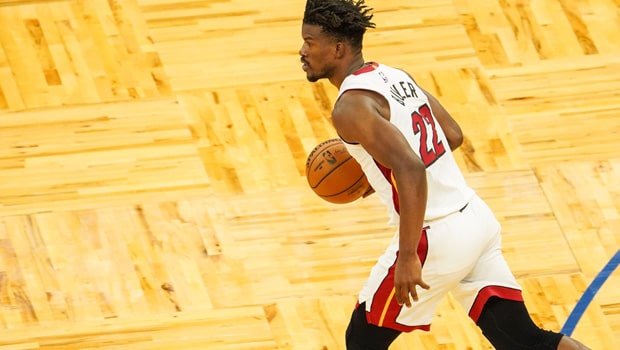 I watched Game 7 of the Eastern Conference Finals between the Boston Celtics and Miami Heat on Sunday. It was a highly-competitive game but what was the biggest talking point following the Celtics' win? Undoubtedly Jimmy Butler's final shot.
With 17 seconds left in the game (shot clock off) and down by two points, Jimmy Butler decided to pull up for a transition 3-point shot… and he missed.
The Celtics grabbed the rebound and that was game over. (go to YouTube and check out the clip if you haven't had a chance to see this play)
The question everyone's debating is:
"Should Jimmy Butler have taken that shot?"
Most of NBA Twitter said "NO!"
I get their reasoning, the Heat had no one in position to rebound, Butler is not a great 3-point shooter and there was a lot of time left on the clock.
For me? I'm somewhere in the middle here.
I would have preferred for Butler to attack Horford 1-on-1 and go for two points to tie the game… but I do think that if your best player feels confident enough to pull up for a shot, then that's a shot I can live with if I'm a head coach.
At the higher levels of coaching, sometimes you just have to put the ball in your best player's hands and live with the result.
If they feel confident enough to take the shot, then they have to let it fly.
An important point is that whether the shot goes in or not, the head coach MUST have his/her player's back.
In the post-game interview with Heat head coach Erik Spoelstra, he made it clear that he fully supported Jimmy Butler pulling up for that shot. I think this is important for coaches to hear and acknowledge.
The WORST thing you can do as a head coach is publicly drag your star player through the mud after they've bet on themselves like that. (you can have a very different conversation behind closed doors)
Jimmy Butler 100% made the right play in that moment. He knew the nature and direction of the game. The Celtics were better all series, it should not have gone to seven games, but it did and so when the Heat were down, TIRED and fighting an uphill battle with momentum swinging? Steal and escape was the best course of action.
Leave a comment