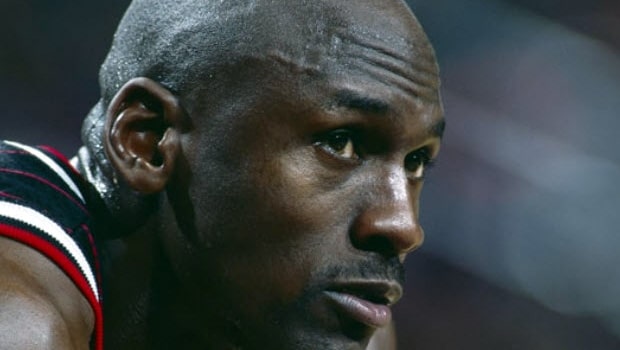 Michael Jordan had competitive stamina, he was able to sustain competitive spirit from day to day, game to game. MJ was able to keep going no matter how he felt daily.
In 'Michael Jordan: The Life,' Roland Lazenby provides great insight into how Jordan dealt with the Detroit Pistons eliminating the Chicago Bulls in the Eastern Conference Finals for the second straight year in 1990.
"Furious with his teammates, Jordan cursed them yet again at halftime, then sobbed in the back of the team bus afterward. "I was crying and steaming," he recalled.
"I was saying, 'Hey, I'm out here busting my butt and nobody else is doing the same thing. These guys are kicking our butt, taking our heart, taking our pride.' I made up my mind right then and there it would never happen again.
That was the summer that I first started lifting weights. If I was going to take some of this beating, I was also going to start dishing out some of it. I got tired of them dominating me physically."
The Pistons played MJ as physical as possible, forcing outside shots and making his teammates beat them. Whenever Jordan cut to the basket, the Pistons bodied him, especially in the fourth quarter. The result was another playoff exit against the Bad Boys of the NBA.
During the offseason, Michael Jordan started working with Tim Grover, a sports enhancement specialist. MJ was very serious about his weight training and added 15 pounds of muscle.
Jordan made one of the weaknesses in his game a strength. That latest loss to the Pistons fueled him and he committed to doing something about it.
In 1991, the Bulls dominated the Pistons, sweeping them in four games to reach their first NBA Finals and beat the Lakers to win the first of six championships.
Jordan's willingness to learn from his losses made it all possible.
Tim Grover explained in an interview with Stack Sports why Michael Jordan had the mindset of a champion: "Michael's mindset in the training was extremely unique I meant the most competitive individual I've ever met never wanted to lose at anything, always felt like somebody else was gonna outwork him so he wanted to outwork them, he knew what his weaknesses were and knew what his strengths were, he had a big thing where he used to say hey listen I'm going to turn my weaknesses into strengths and he did and what you notice is every year there was an evolution in his game there was something that he added but there was a new shot a new move he was never satisfied no matter how many championships, how many titles, what people said how many accolades he got he always wanted to get better.
Most practices have the starting five on the same team. Practices were Michael's at they always had Scottie on the other team because Michael always wanted to go against the best offender and the best player or the second-best player on the team. He never played down to the level of his competition, he always found a way to motivate himself if he knew in a certain game that he could score real easily he'd say well I'm gonna go get some more rebounds, I'm gonna go get assists, he had no weaknesses in his game and so he did whatever the team needed to win. I think the key components to that mindset is once he stepped between those lines nothing else mattered that was his safe haven, nobody could get to him, he was able to perform in front of millions of people and he never wanted to let them down but he practiced extremely hard which made the game easy for him. From so much practicing of all the different aspects and understanding film and the other players and what their tendencies are and being so well prepared he always had the edge over his competition.
What the young athletes can learn from Michael and his mindset is there's more to preparing for a basketball game than just the dribbling, shooting part of it, there's knowing what he weakness and strength of your opponent is, what the opposing team, what your players are capable of doing, what they're not capable of doing, what you can do to enhance their abilities, it's a job, it's a job just like every other one and the more you're prepared for it the better you will be at it but preparation takes hard work and it takes sacrifice that you have to do."
It's hard to believe that Michael Jordan was cut from high school team as a sophomore but it really happened. Just a few years later, North Carolina claimed the 1982 national championship after MJ made the game-winning jumper against Georgetown. This was the beginning of Jordan's legend. Hpe then won six NBA championships in six trips to the NBA Finals, as well as eight scoring titles, five regular season MVP awards, six NBA Finals MVP awards, three NBA All-Star game MVPs and one Defensive Player of the Year award.
Michael Jordan established a record by making the NBA's All-Defensive First Team nine times and he was a 14-time NBA All-Star and a former NBA Rookie of the Year (1985). Jordan finished his career with 32,292 points, averaging 30.1 points in 1,072 games over 15 years (13 with the Bulls). He also had 6,672 total rebounds, 5,633 assists, 12,192 field goals and 5,633 steals.
MJ averaged 31.5 points, 6.3 rebounds and 5.4 assists in 930 games over 13 seasons with the Bulls and he was the star of their legendary teams in the 90s. He averaged 28.7 points, 5.8 rebounds and 3.5 assists in 38.8 minutes over 82 games to win the NBA MVP award in his final season with the Bulls in 1998.
Leave a comment