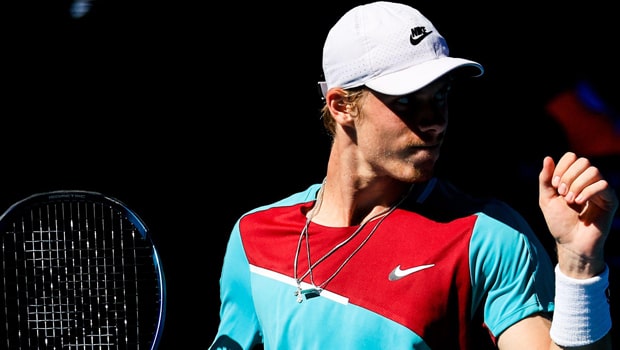 The World no.5 Rafael Nadal had to toil hard against the World no. 14 Denis Shapovalov for four hours and seven minutes but he was able to come out on top in the quarterfinal of the ongoing Australian Open on Tuesday. The Spaniard defeated the Candian by 6-3, 6-4, 4-6, 3-6, 6-3 to reach his seventh semifinal in the Australian Open.
Nadal made an impressive start as he was aggressive in his shot-making and took a 2-0 lead. However, the 22-year old Canadian bounced back stronger in the next two sets to take the game into the final set. Nadal also battled through stomach trouble and was struggling physically on the court but just got over the line.
Nadal was delighted that he was able to serve well in the fifth and the deciding set as Shapovalov was threatening to take the game away.
"I don't know honestly," a bemused Nadal responded. "I'm completely destroyed after that. "I was a little bit lucky at the beginning of the fifth set.
"At the beginning of the match I was playing great, then I know how difficult it is to play against a player like Denis [Shapovalov]. "He's very talented, very aggressive, he was serving huge, especially the second serve. "For me, it's amazing honestly to be in the semi-finals."
Meanwhile, Nadal used every bounce of his energy on Tuesday and there is no doubt that he will need time to recover after a marathon game. Nadal's semifinal clash will be played on Friday and the Spaniard will look to be ready for the big game.
"Today, yes, it's very important!" Nadal admitted about the welcome rest. "I am not 21 anymore, so after this match, it's great to have two days off."
Nadal came up with his best in the crunch situations of the final set as he was also able to save a break point early in the decider. The veteran will face either Gael Monfils or Matteo Berrettini in the semis.
Leave a comment