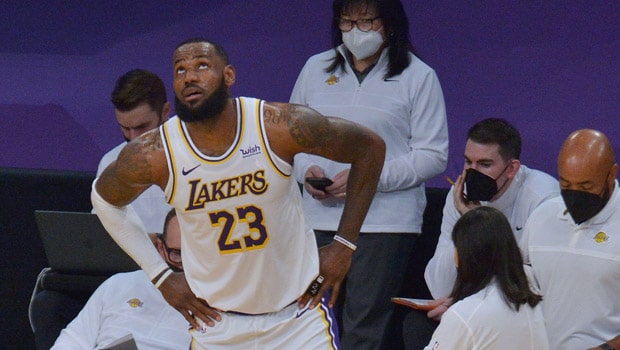 The defending champions LA Lakers were knocked out by Phoenix Suns in the first conference round as they lost by 113-100 on Friday night. James scored 29 points but his efforts were in vain against the Suns in the sixth game as Devin Booker came up with a fine performance to score 47 points. The Lakers were not at full strength and their whole season was hampered by injuries.
Earlier, Anthony Davis was ruled out with an Achilles Tendon injury whereas LeBron James missed matches due to an ankle sprain. Furthermore, Davis was ruled out in the fourth match of the playoff series after suffering from a groin injury.
Moreover, LeBron James was not at his 100% whereas the supporting cast couldn't chip in their contribution.
Meanwhile, despite getting knocked out, LeBron James has created an all-time playoff after a first round loss.
LeBron James is the only player in NBA history to rank in the top 10 for all-time playoff points (1st), rebounds (6th), assists (2nd), steals (1st) and blocks (10th).
However, for the first time since 2010, the NBA Finals won't feature either Steph Curry or LeBron James. On the other hand, Golden State Warriors had finished at the ninth place in the Western Conference standings despite Stephen Curry having one of the best seasons of his career.
Meanwhile, the onus was on LeBron James and Anthony Davis to perform for the Lakers. However, both of them were sidelined due to their respective injuries and the Lakers' title defence hopes took a massive blow. The Lakers will now look to come back stronger in the next season and they will need to strengthen a few of their weaknesses.
Leave a comment