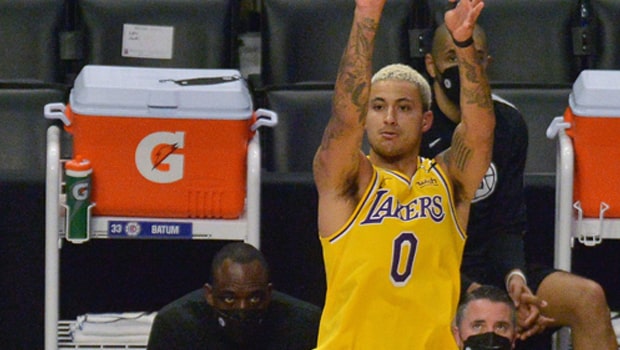 The Lakers traded Kyle Kuzma, Kentavious Caldwell-Pope, Montrezl Harrell and a first-round pick to the Wizards for Russell Westbrook in what ended up as a five-team deal. Kuzma went from being considered a cornerstone piece in the Lakers to a role player on a championship winner alongside a pair of future Hall of Famers in LeBron James and Anthony Davis, to receiving a rebirth in Washington. He will add versatility and championship experience to the Wizards. Kuzma recalled finally sitting down with Kobe as a Laker in an article for The Players' Tribune:
"From the day I became a Laker, I had one thing on my mind.
I had to have a sit down with Kobe.
That whole summer I was banging down Rob Pelinka's phone every damn day trying to get hold of Mamba.
I'm hitting Rob all the time like, 'Come on, help me out. I'm trying to talk to him.' And this goes on for like a minute.
Then finally one night, we're in Minnesota for a game the next day. It's almost 11, I'm stretching in my hotel room, and I get a random text, just out the blue.
'Yo, this is Bean. Let's do dinner. Sunday when you guys get back.'
I'm like, This is Kobe….. texting my phone. What the fuck is going on right now?
So I show up at the restaurant that Sunday.
I'm always on time for dinner, but tonight I'm 15 minutes early. I'm just sitting there for a while, until his security shows up. They walk in, and they're like, 'Hey, we're gonna take you back to the table. Kobe's almost here. Driving in right now.'…
So now I'm sitting at the dinner table, and I'm just waiting.
We have two tables because one table's for me and Kobe, and the other table's for his three or four security guards. And I'm just sitting at the table by myself waiting for him. I'm on my phone, I'm thinking about this dinner, I'm sipping water, I'm thinking about how it's gonna go. And then one of the security guys gets up from his table. He walks over to me and says, "Hey. Kobe just parked. He's two minutes out."
I'm like, "Alright, cool." But on the inside I'm just fucking sweating, and I don't even know why I'm sweating right now. I have a white t-shirt on, and I'm looking at my shirt like, Dang.
All of a sudden Kobe walks in, and it's literally like Moses spreading the ocean. Everybody in the restaurant is just looking at him. And he comes to the table, and he's like, 'Kuz, what up man?' Just completely chill. But I'm like, Oh shit, Kobe knows my name.
We're at that table for about two hours. And we're just talking about life, basketball, how I grew up, how he grew up. The ups and downs of his career. We talked about his business life. Things that really influenced him. The cool thing with Kobe — he was always trying to get smart. He was always trying to gain knowledge, and he'd find that from anything. So he's not just sitting there answering questions. He's asking me all this stuff, too. Man, just like, 'How has your upbringing shaped you? How do you think it's helping you in your pro career right now?' Things like that. And he didn't have to do those things, but he did.
That was a really cool night for me. It's a memory that just gets more important and more special to me as time goes by."
Kobe Bryant is possibly one of the greatest NBA players of all-time and the greatest Laker ever. Two jersey numbers in the rafters at the STAPLES Center prove it. Kobe was able to take over games in ways that not many players could.
His drive to win at any cost helped him succeed on and off the court. An 18-time NBA All-Star, five-time NBA champion and one-time NBA MVP, Kobe tragically passed away on January 26, 2020. Kobe's game was influenced by Michael Jordan, he never denied it.
Eduardo Solano, from FOX Sports Radio 1340 AM Hopewell and AccuScore, wrote this about Kobe Bryant recently:
"I've always been a Chicago Bulls fan but I followed Kobe Bryant's entire career! Kobe is one of my favorite athletes of all-time and I still can't process that he is gone."
Leave a comment