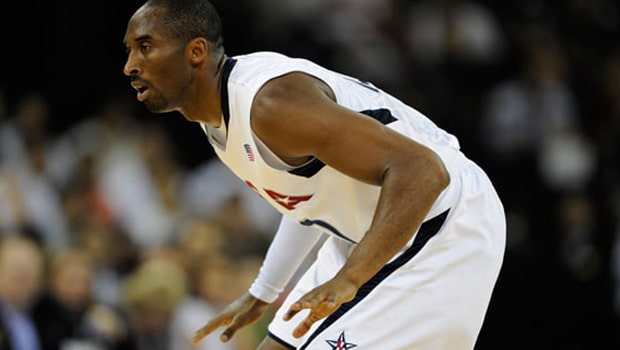 Kobe Bryant is one of the greatest NBA players of all-time and the greatest Laker ever. Two jersey numbers in the rafters at the STAPLES Center prove it. Kobe was able to take over games in ways that not many players could.
His drive to win at any cost helped him succeed on and off the court. An 18-time NBA All-Star, five-time NBA champion and one-time NBA MVP, he tragically passed away on January 26, 2020. We look at some unbelievable runs in his career:
Kobe Bryant During Nine Straight Games in 2003:
46 points vs. Knicks
42 points vs. Nuggets
51 points vs. Nuggets
44 points vs. Spurs
40 points vs. Knicks
52 points vs. Rockets
40 points vs. Jazz
40 points vs. Trail Blazers
41 points vs. SuperSonics
2005-06 Season:
81-point game (55 in the second half)
62 points in 32 minutes
Six games with 50+ points
48 points in 35 minutes
40 points in 33 minutes
Scored 40+ points 27 times
Averaged 43.4 points per game in January
Averaged 41.6 points per game in April
2,800 total points in the season
40+ points in four straight games (three times)
Kobe Bryant March, 2007:
65 points vs. Trail Blazers
50 points vs. Timberwolves
60 points vs. Grizzlies
50 points vs. Hornets
* Four Straight Games * 
43 points vs. Warriors
53 points vs. Rockets
Why these numbers need context: Kobe was doing this in what now feels like an entirely different sport, with little to no spacing, a slower pace, much more physical.
The game was played on both ends so primary defenders were very valuable to stop scorers. Kobe had no co-star even close to an All-Star level in these moments (Shaq was out in that 2003 run), all eyes on him. Zone defense and doubles + even triples were a nightly coverage he saw.
You couldn't really stat pad in this era due to the defensive emphasis and pace. No easy baskets. The 3-point shots weren't as prevalent then, so he had multiple nights where he only attempted 5-8 3's and he still hit those numbers. Kobe was a true marksman. On the nights he got hot from beyond the arc, Phil allowed him to let them fly.
When it was happening, it felt like a video game thing. Back then the conversation around the sport wasn't number based either, so when he started doing Wilt Chamberlain-like things as a guard…the whole basketball world was moved.
Kobe worked like he had no talent, then he played like he believed he was the best player in the world. Prepare with humility; perform with confidence, that's one of the many lessons he taught us.
Leave a comment