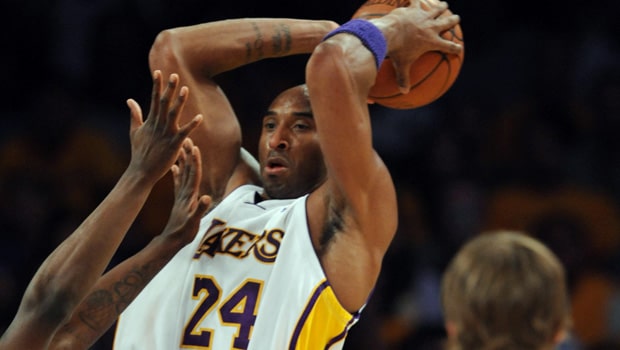 On April 24, 2009, Kobe Bryant torched the Utah Jazz for 38 points on 16 of 24 shooting from the field. Kobe felt he had to redeem himself for a poor shooting night in Game 3 of the first round of the playoffs, which allowed the Jazz to win the only game they took in the series.
Kobe scored the Lakers' first 11 points, letting everyone know his shooting slump was short lived. "He was hot right off the bat and continued his onslaught basically during the course of the half," Phil Jackson said…
… And continue the onslaught he did. Kobe finished with a 67/50/100 shooting line and the Lakers easily took this one 108-94 to take a 3-1 lead in the series.
Kobe Bryant is possibly one of the greatest NBA players of all-time and the greatest Laker ever. Two jersey numbers in the rafters at the STAPLES Center prove it. Kobe was able to take over games in ways that not many players could.
His drive to win at any cost helped him succeed on and off the court. An 18-time NBA All-Star, five-time NBA champion and one-time NBA MVP, Kobe tragically passed away on January 26, 2020. Kobe's game was influenced by Michael Jordan, he never denied it.
Eduardo Solano, from FOX Sports Radio 1340 AM Hopewell and AccuScore, wrote this about Kobe Bryant recently:
"I've always been a Chicago Bulls fan but I followed Kobe Bryant's entire career! Kobe is one of my favorite athletes of all-time and I still can't process that he is gone."
Leave a comment