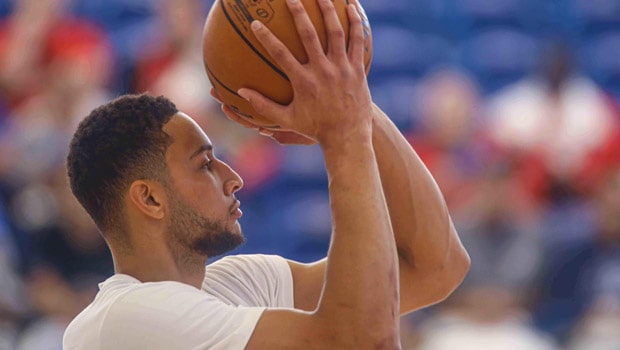 Ben Simmons would be wise to heed Kobe Bryant's advice to him from 2019. Kobe didn't want Simmons to have regrets after his career is over.
Simmons' play had a lot do with the 76ers' early exit in this year's playoffs. He missed 48 free-throws in 12 playoff games this year. Simmons was 25-for-73 from the free-throw line (34.2 percent) and that 34.2 percent free-throw percentage is the worst in NBA Playoffs history (with a minimum of 70 attempts).
This was year one of a five-year, $177 million contract for Simmons and he had just five points and only attempted four shots in Game 7 against the Hawks. Not to mention that he passed up a wide open dunk late in the fourth quarter.
Ben Simmons in the 4th quarter in the second round series against the Hawks:
Game 1: 2-2 FG
Game 2: 0-0 FG
Game 3: 1-1 FG
Game 4: 0-0 FG
Game 5: 0-0 FG
Game 6: 0-0 FG
Game 7: 0-0 FG
During an interview with the Herald Sun in 2019, Kobe Bryant gave an honest and accurate answer when asked what Ben Simmons needs to do to take his game to the next level:
"Well, he gotta get a jump shot. Listen, it sounds humorous and all that, but I'm dead-a** serious. Because if not he'll regret it when his career is over. And you look at what he is doing now without that and it is astonishing. Now imagine you can shoot the ball, what does that open up for you? You don't want to retire and look back and go 'Man, if I just had a jump shot, what would I have done?' 
You don't want that. You don't want that. So I don't care if you have to lock yourself in the gym for 10 hours a day. If this kid gets a jump shot, it's a serious, serious problem. I mean a serious, serious problem. So to answer your question, the sky's the limit for him. He can be as good as he wants to be."
Kobe Bryant is possibly one of the greatest NBA players of all-time and the greatest Laker ever. Two jersey numbers in the rafters at the STAPLES Center prove it. Kobe was able to take over games in ways that not many players could.
His drive to win at any cost helped him succeed on and off the court. An 18-time NBA All-Star, five-time NBA champion and one-time NBA MVP, Kobe tragically passed away on January 26, 2020. Kobe's game was influenced by Michael Jordan, he never denied it.
Eduardo Solano, from FOX Sports Radio 1340 AM Hopewell and AccuScore, wrote this about Kobe Bryant last year:
"I've always been a Chicago Bulls fan but I followed Kobe Bryant's entire career! Kobe is one of my favorite athletes of all-time and I still can't process that he is gone."
Leave a comment