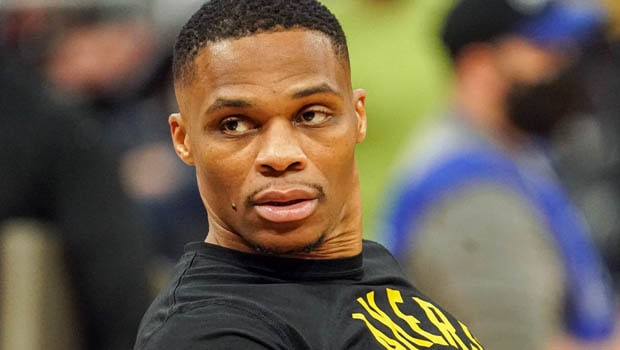 LA Lakers' horrid run in the ongoing season continued as they were obliterated by New Orleans Pelicans by 123-95 on Sunday night at the Crypto.com arena. The Lakers had to face boos from the home crowd after their mundane performance. The visitors totally annihilated the Lakers as they scored 44 points in the third quarter whereas the Lakers could only manage 25 points.
Russell Westbrook, who signing hasn't quite gone right for the Lakers, stated that the boos didn't bother him. Lakers have lost nine of their last 12 matches and they haven't been able to come up with collective performance.
Meanwhile, LeBron James was once again the lone warrior of the team as he scored 32 points for the team.
"Nah," Westbrook said. "Take it home? For what? S—. Take it home? I got three beautiful kids at my house. Why would I take it home? If they boo, they can take their ass home. I ain't worried about that. It doesn't bother me any. …
"I can only answer if I take them home: No. But as for our team, I don't think it's something we got to deal with. And kind of move forward."
Thus, now the Lakers have a 27-33 record in the Western Conference and they are currently in ninth place in the standings. Furthermore, they were utterly dominated by a team which is placed below them in the standings.
Lakers will have their work cut out in the coming matches as they will face Dallas Mavericks and Golden State Warriors.
"We got a tough stretch with Dallas, Clippers again Thursday, then Golden State on Saturday," LeBron James said. "And we still got 10 road games this month, or March, so it don't get easier for us."
On the other hand, the team's head coach Frank Vogel, who has been under the scanner, for the team's poor performance, feels they didn't shoot well. The team shot 7-for-34 from 3 (20.6%).
"We're not shooting the ball well from the perimeter, and the paint's clogged, and we're trying to force inside — with the pass, with the bounce — and it's leading to a lot of turnovers," Lakers coach Frank Vogel said. "And we're not moving that well defensively. So, we weren't very good on either end tonight."
Lakers will next face Dallas Mavericks on Tuesday night.
Leave a comment