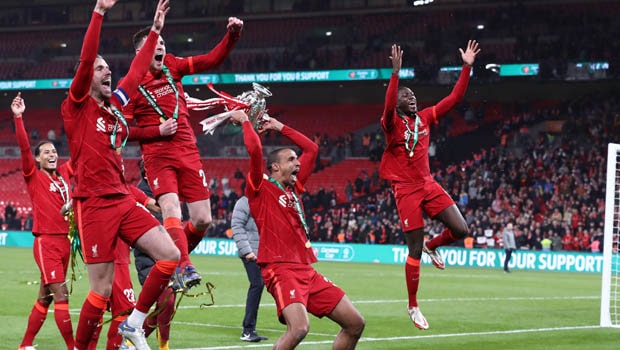 Liverpool is Carabao Cup champions for the 2021/2022 season after beating Chelsea 11-10 on penalties on Sunday evening at the Wembley stadium.
The game had four goals disallowed, two for each side and in each half, but the first came from Matip in the second half as the VAR chalked it off for offside on the part of Virgil Van Dijk, who interfered with play.
Romelu Lukaku was brought in in the second half by Thomas Tuchel, but he also had a goal chalked off by the VAR.
However, both teams remained inseparable after extra time, and a penalty was needed, with the blues substituting Eduoard Mendy for Kepa Arizzabalaga for the shootouts.
Unfortunately, the Spanish goalkeeper couldn't save any of the eleven Liverpool penalties while he also blasted his own penalty over the bar.
Chelsea manager Thomas Tuchel gave his view after the game and claimed his team had a brilliant game and is unworried neither does he regret his decisions in the game.
"Football can be a brilliant game, and it was a brilliant game, no worries, and no regrets. We gave everything, and it was a brilliant match of football. The disallowed goal for Romelu is a very close call – there are bad feelings about this call. We did it before with Kepa, he is slightly better in penalty saving, and that is why I made the decision." Tuchel said.
Liverpool will now hope to add the Premier League title to their first trophy of the season. The Reds are behind Manchester City on the table with six points, although with a game in hand.
Meanwhile, they still can win the UEFA Champions League, where they have a 2-0 first-leg advantage over the Italian side Inter Milan.
Furthermore, Chelsea will have to focus on the FA Cup and the UEFA Champions League if they wish to add to their FIFA Club world cup title. They defeated Lille 2-0 in the Champions League round of sixteen ties in the first leg.
Leave a comment