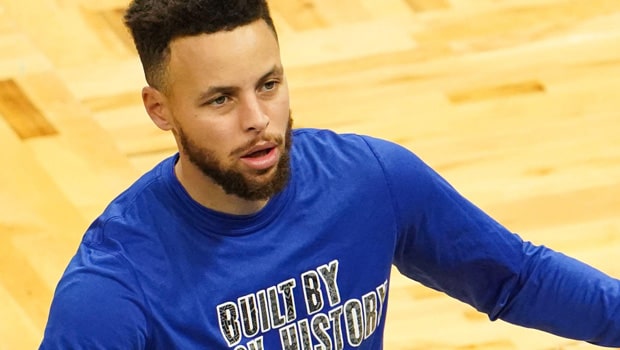 Every player has his own ups and downs throughout his career. Golden State Warriors superstar Stephen Curry admitted that when his team could not qualify for the 2020 playoff, it was the lowest point in terms of his basketball experience. The playoffs were played in Orlando Bubble due to the Covid-19 pandemic and Golden State Warriors could not qualify for the postseason after having a rusty run in the regular season.
Curry had a forgettable season in 2019-20 as he could only play five regular-season matches for Golden State Warriors before he suffered a broken hand and had to miss the rest of the season.
Curry admitted that it wasn't easy for him to spend time on the sidelines.
"Watching the bubble was the lowest point of those two years," Curry told Yahoo Sports. "There was a part of me that felt it was nice to get refreshed, and a part of me really missed playing on that stage. That was the first time in seven years of not being in the playoffs. We know each player had their own experiences in the bubble, but I would have loved to have been there competing. I would say that was the lowest point in terms of my basketball experience because I felt so far away from it. This is what I love to do."
He continued: "It got to me a little bit because you're so used to performing in certain times of the year," Curry told Yahoo Sports. "You understand the chatter or the narratives of the league when it's at the highest stage, but for me, it's more so just the competitive nature. You remember how much fun it is. I know the bubble was different, but you're watching teams that you know everything about. That was hard because we know what it's like to prepare for the playoffs and into a championship chase and how much fun that is. That's the motivation I needed. That's why I'm enjoying the ride we're on now, and we're not done."
Meanwhile, Stephen Curry has made a fine start to the ongoing season and he is once again at his absolute best. Curry has scored 105 threes in 19 matches and broke his own record of being the fastest to 100 threes in a season, which he achieved in 20 games in 2015-16 and 2018-19 editions.
Furthermore, the talisman has top-scored for the team in 13 matches thus far. GSW has a 18-2 record and they have certainly put their foot as the front-runners for the NBA Championship.
GSW will next face Phoenix Suns on Tuesday.
Leave a comment