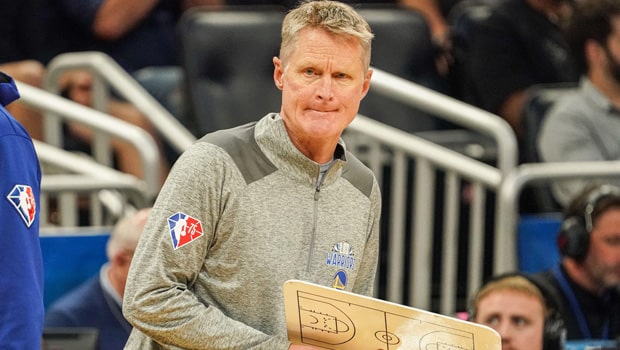 Golden State Warriors head coach Steve Kerr believes Klay Thompson played his best game against the LA Lakers on Thursday night since his return in January after a long lay-off of 941 days. The Dubs bested the Lakers by 128-112 despite the absence of their star player Stephen Curry.
Klay Thompson, who is growing in confidence after every match, top-scored for GSW with 33 points as he shot 12/22 from the field. Furthermore, he scored six three-pointers as he shot with accuracy.
"I thought it was Klay's best game," Kerr said. "I know he's scored more but just in terms of the shot selection, he just had his feet on the ground underneath him, his balance was great, his decision-making was really good. So a lot of good things happening."
On the other hand, Jordan Poole continued to impress as he added 19 points and scored a career-best 11 dimes for GSW at the Chase Center to play a crucial role in his team's win.
"Jordan's been amazing. He's had a fantastic season," Kerr said. "He's filled in for both Klay and Steph when they've been injured. He's done anything we've asked him to do."
Poole was delighted after providing 11 assists and added that it feels nice to find his teammates in good spots, from where they could score.
"It just feels really good putting my teammates in really easy situations to score the ball, especially getting guys going early in case the game gets close at the end, they've got a rhythm and they're a bit comfortable," Poole said.
GSW has a 51-29 record and Kerr added that the team will look to continue the impetus after winning their third game on the bounce. Three more matches are remaining for GSW in the regular season.
"We're going to try to win all three games. We're just going into this thinking, let's build momentum. If we could capitalize on these last two wins and go into next week on a winning streak, I think that would serve us really well," Kerr said. "But whatever happens with the seeding happens, and we'll just play whoever we will play."
GSW will next face San Antonio Spurs on Saturday night.
Leave a comment