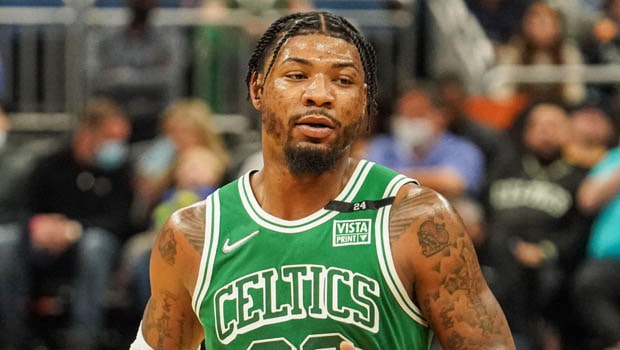 Golden State Warriors head coach Steve Kerr feels Marcus Smart's play against Stephen Curry was dangerous. Curry was ruled out of the second half against Boston Celtics after he suffered a left-foot soreness. The Celtics won by 110-88 on Wednesday night.
Curry underwent an MRI after the game and Kerr revealed that the seriousness of the injury will be known after the MRI report. The talisman suffered the blow when 4:17 were left on the clock in the second quarter. Curry's leg was rolled over by Marcus Smart when the two were fighting for the loose ball and Kerr was frustrated by Smart's dangerous play.
Kerr said, "We'll know after the MRI."
"I thought it was a dangerous play," Kerr said. "I thought Marcus dove into Steph, and that's what I was upset about. A lot of respect for Marcus. He's a hell of a player, a gamer, a competitor. I coached him in the World Cup a few summers ago. We talked after the game and we're good. But I thought it was a dangerous play."
Meanwhile, it is well known that Smart gives his all on the court and he plays hard. Smart added that he is not a dirty player and didn't notice that Curry is also going for the ball.
"I saw the ball, I dove for the ball, trying to make a play," Smart said. "Unfortunately that occurred."
He added: "I'm sure I'm going to get called dirty. But I know who I am. … I play very hard and I leave everything on the court. … My teammates, my colleagues, they know I'm not a dirty player."
On the other hand, Draymond Green feels Marcus Smart's dive was unnecessary but he didn't rate it as dirty play as he was going for the ball.
"I'd expect Marcus Smart to make that play. He plays hard," Green said. "I can't call that a dirty play. As unfortunate as it is … maybe unnecessary, but that's the most I can call it. Unnecessary. But I can't call it a dirty play. The ball is on the floor. At every level of basketball, we are taught to dive on the floor and go after the ball. That's what Marcus did. So I can't call it a dirty play. I will say it was probably an unnecessary dive."
Golden State Warriors will next face San Antonio Spurs on Sunday.
Leave a comment