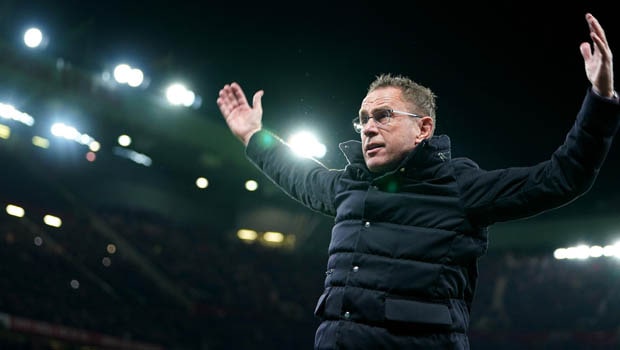 Manchester United interim manager Ralf Rangnick was frustrated after his team was knocked out of the UEFA Champions League after losing the second leg of the Round of 16 clash against Atletico Madrid at Old Trafford on Tuesday by 1-0. The German manager was not happy with the referee's decision on Anthony Elanga, which led to the tourists scoring the match-winning goal on the counter-attack.
Meanwhile, the second half was start-stop throughout the 45 minutes and Rangnick reckons more additional time should have been given by the referee.
Rangnick said after the game, "We started the game exactly the way that we wanted to play it, energetically. From the very first minute, we were in control of the game. We could have scored an early goal, when we hit the crossbar and there were two or three other good moments in the first half. But, unfortunately, we were not able to convert that energy into one or two goals in the first half, which would have been highly important, to score the first goal ourselves. And then we conceded that one transitional moment shortly before half-time and this didn't make our life any easier. I still believe there was a foul on Anthony Elanga a little bit before that counter-attack moment but the referee and linesman didn't see it that way."
He added, "I don't think that the game went more than three minutes in a go, it was always interrupted with somebody lying on the floor. I think there were also some curious refereeing decisions. I wouldn't say, in the end, that they were decisive but at least he fell too often for those time-wasting antics and, in the end, four minutes' extra time was just a joke for me."
With this loss, Manchester United's dream of any silverware in this season has ended. The Red Devils haven't been at their best and their exit from the Champions League wasn't a surprise for many Football pundits. Rangnick added that the aim is to now finish among the top four in the Premier League.
The Red Devils will compete with Arsenal, Wolves, Tottenham Hotspur, and West Ham for the top four finish.
Rangnick added, "Yes, but that would have been the case, even if we'd have won the game tonight. We also have to be realistic. To achieve that, we have to win six, if not seven, of the games and win away at Arsenal. It's not an easy thing to achieve, at the end, but we will try hard and our very best to finish fourth at the end of the season. Whatever happens, our job now, together with the fantastic supporters, the fans were fantastic today, is to finish this season on the best and highest possible note."
Manchester United will next face Leicester City on the 2nd of April.
Leave a comment