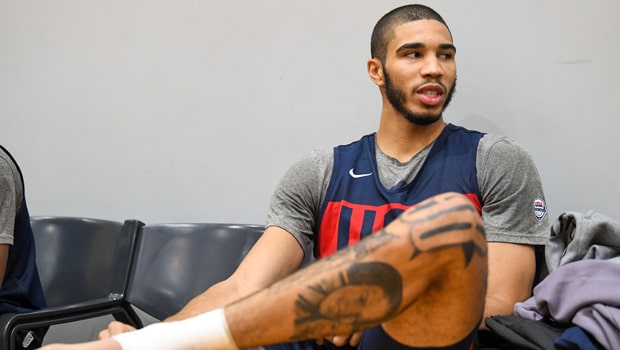 Jayson Tatum wouldn't be the player that he is today without Kobe Bryant. Tatum, just like Devin Booker and others, viewed Kobe Bryant as an older brother and mentor. Kobe would mentally challenge Tatum to see how great he truly wanted to be. The Celtics star appeared on the Talking to the Beyond The Press podcast with Ashley Nevel and revealed what Kobe would do to make him start thinking differently about preparation and sacrifice.
"One of the many things I took from him that always stuck with me, he kinda just asked me one day, 'How much does it mean to you?'" Tatum said. "And that kinda puts things in perspective. You know, how much does being great or being a champion or whatever. How much does it mean? 
What are you willing to give up? What are you willing to do, sacrifice? All those type of things. I think that's kind of the model he lived by."
"Everyone wants to win," Tatum said. "I want to be a champion. I want to be an MVP and want to be one of the greatest to ever play — Hall of Fame. That's something I'm actively working on."
After being selected No. 3 overall by the Celtics in the 2017 NBA Draft, Jayson Tatum has helped guide the Celtics deep into the playoffs and he's averaged 19.4 points, 6.3 rebounds and 2.7 assists in 32.7 minutes over 289 career games.
Kobe Bryant is possibly one of the greatest NBA players of all-time and the greatest Laker ever. Two jersey numbers in the rafters at the STAPLES Center prove it. Kobe was able to take over games in ways that not many players could.
His drive to win at any cost helped him succeed on and off the court. An 18-time NBA All-Star, five-time NBA champion and one-time NBA MVP, Kobe tragically passed away on January 26, 2020. Kobe's game was influenced by Michael Jordan, he never denied it.
Eduardo Solano, from FOX Sports Radio 1340 AM Hopewell and AccuScore, wrote this about Kobe Bryant last year:
"I've always been a Chicago Bulls fan but I followed Kobe Bryant's entire career! Kobe is one of my favorite athletes of all-time and I still can't process that he is gone."
Leave a comment