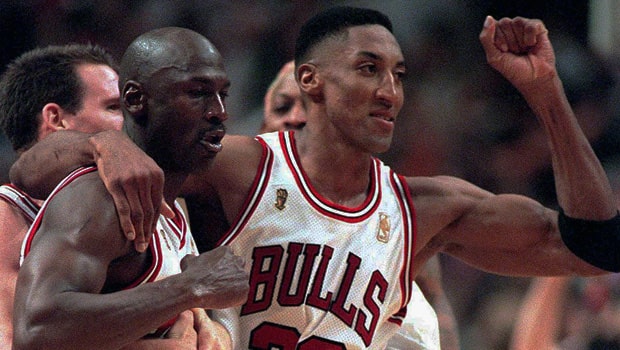 Former Chicago Bulls player Scottie Pippen was not at all impressed after he saw Sports docu-drama 'Last Dance' which was produced by ESPN. The docuseries was based on Chicago Bulls' domination through the 1990s as the team won six consecutive NBA titles and Michael Jordan received a lot of praise as it was a super hit on Netflix during the early days of the pandemic.
However, Pippen feels Jordan didn't give enough credit to his teammates, which they deserved as they also played a crucial role in the success of the Bulls. Pippen feels Jordan might not have become the player he did had he not received support from players like Horace Grant, Toni Kukoc, John Paxson, Steve Kerr, Dennis Rodman, Bill Cartwright, Ron Harper, B. J. Armstrong, Luc Longley, Will Perdue, and Bill Wennington.
Pippen believes the documentary was too focused on Jordan and he stole all the limelight as it was more about him than the team and Phil Jackson, former Bulls coach, who is regarded as one of the best NBA coaches in the history of the game.
Pippen feels James wanted to prove he was larger than life and was a bigger player than LeBron James, who has made a name for himself among the greats of the game.
Pippen wrote in his upcoming book, the Unguarded, "Michael was determined to prove to the current generation of fans that he was larger-than-life during his day—and still larger than LeBron James, the player many consider his equal, if not superior."
He added, "So Michael presented his story, not the story of the "Last Dance," as our coach, Phil Jackson, billed the 1997–98 season once it became obvious the two Jerrys (owner Jerry Reinsdorf and general manager Jerry Krause) were intent on breaking up the gang no matter what happened."
Michael Jordan is regarded as one of the best players in the history of the game and always remained in the limelight for the skills and charisma he brought to the court. Thus, players like Scottie Pippen played under the shadow of Jordan and were always underrated and maybe didn't get the credit and money they deserve during their careers.
Leave a comment