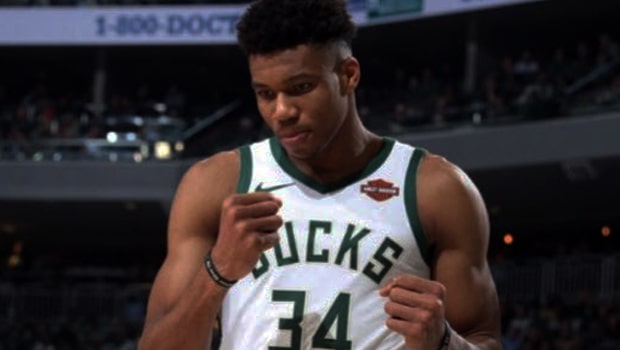 Giannis Antetokounmpo and his girlfriend Mariah Danae Riddlesprigger took to Twitter on Monday to announce the birth of Liam Charles Antetokounmpo. As a result, Antetokounmpo didn't play on Monday's 123-111 win against the Kings. Last year
The Greek Freak became the first player to win the NBA MVP award after being named Most
Improved Player.
For the second straight year Giannis will be a team captain in the NBA All-Star game against a
squad led by LeBron James.
The game takes place on Sunday at 8:00 PM ET. Team Giannis consists of The Greek Freak,
Joel Embiid, Pascal Siakam, Kemba Walker, Trae Young, Bam Adebayo, Jimmy Butler, Rudy
Gobert, Brandon Ingram, Kyle Lowry, Khris Middleton and Donovan Mitchell.
Team LeBron, on the other hand, features James, Anthony Davis, Luka Doncic, James Harden,
Kawhi Leonard, Nikola Jokic, Damian Lillard, Chris Paul, Domantas Sabonis, Ben Simmons,
Jayson Tatum and Russell Westbrook.
Why Giannis Antetokounmpo Should Be the 2020 NBA MVP
Milwaukee Bucks star forward Giannis Antetokounmpo is in line to win his second straight NBA
MVP award.
The Bucks have the best record in the NBA but Antetokounmpo as an individual has been even
better. All aspects of his game are either pretty good or elite, except for his 3-point shot.
Although he is shooting 31.3 percent from beyond the arc this season, which is the second-best
percentage of his career, only behind 34.7 percent in his rookie season in 2013-14.
Selected with the 15th overall pick in the 2013 NBA Draft, The Greek Freak has improved faster
than expected. Antetokounmpo went to his first All-Star game in 2016-17 and he was named the
captain of his team in his third All-Star appearance.
Giannis' Numbers in 2018-19
Antetokounmpo finished the 2018-19 regular season averaging 27.7 points, 12.5 rebounds and
5.9 assists in 32.8 minutes over 72 games. He became the only player in NBA history to
average over 29.0 points, 13.0 rebounds and 6.0 assists per 36 minutes. Doing something that
no one's ever done helped Antetokounmpo get MVP support.
Antetokounmpo's regular season was incredible. The Greek Freak led the Bucks to the best
record in the league at 60-22 and his team secured home court advantage throughout the
playoffs.
Giannis' MVP Case
This season he's averaging 30.0 points (2nd in the NBA), 13.5 rebounds (5th), 5.8 assists, 1.1
blocks and 1.1 steals in 30.9 minutes over 48 games. The Bucks go as Giannis goes and this
team is built to make sure he can play in more space and be surrounded by knockdown
shooters. This way he can attack the paint at will and choose between scoring himself or
passing the ball to the many shooters around him.
Defenses can't seem to stop Antetokounmpo, they can try to force the ball out of his hands but
he's also such a solid playmaker that his teammates benefit from those skills.
Giannis Antetokounmpo is the best player on the best team. This is something that the NBA
usually rewards and this MVP award still feels like it is more Antetokounmpo's to lose than it is
anyone else's to win. He checks all the boxes to be named NBA MVP once again: his team is
successful, he has incredible individual statistics, impact as a two-way player and popularity.
Leave a comment