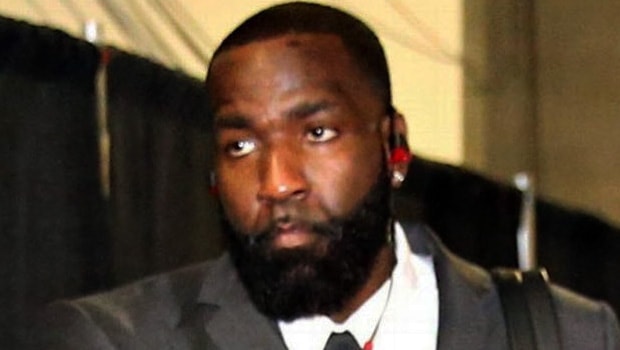 Current ESPN analyst Kendrick Perkins talked to Brandon 'Scoop B' Robinson about how Danny Green and Dwight Howard can help the 76ers.
The Lakers traded Danny Green to the Thunder for Dennis Schroder. Green ultimately found his way to the 76ers in a separate trade. Green will be joined by his former teammate Dwight Howard, who signed with the 76ers as a free agent. "I'm a fan of both of those guys," Kendrick Perkins told Robinson on the Heavy Live With Scoop B Show recently.
"I think Dwight Howard has learned and his time from being away from the game, he's got a different appreciation, his leadership skills are better; so he's going to help Joel Embiid out tremendously. And what people don't realize is that Dwight and Joel can play together because Joel loves to pick and pop. Dwight can be that dynamic rolling to the rim; like, I can see them playing spot minutes together and actually doing pretty well.
 He can mentor Joel Embiid and then you can take Danny Green who's just a class act, right? You can't replace that championship pedigree. He's a guy that can stretch the floor and shoot the three is what the Philadelphia 76ers been lacking. But his leadership skills… you can't replace that. That's a championship pedigree man. And he's a guy that's going to be on the same page as Doc Rivers because of the championship mindset and how he's going to embrace his role, I love him also for the Philadelphia 76ers."
Danny Green averaged just 8.0 points and 3.3 rebounds while shooting 36.7 percent from 3-point range in 24.8 minutes over 68 games last season. Green then struggled in the playoffs, averaging 8.0 points and making just 33.9 percent of his 3-point attempts in 25.0 minutes over 21 games. He was the third-highest paid player on the Lakers but he clearly didn't produce enough to justify this. Green's shooting will ultimately benefit the 76ers, Perkins said. "He's gonna shoot more," he explained.
"He's going to be in that starting role. I can see them going with a lineup like Seth Curry, Ben Simmons, Joel Embiid, Danny Green and Tobias Harris. And what's gonna happen is that he's gonna get open looks because of the paint being so congested because of Ben Simmons and his lack of shooting. Once Danny Green starts knocking that down and making guys respect him again, it's going to open up for Ben Simmons. So I can see him taking a lot more threes than what he did for the Lakers."
Leave a comment