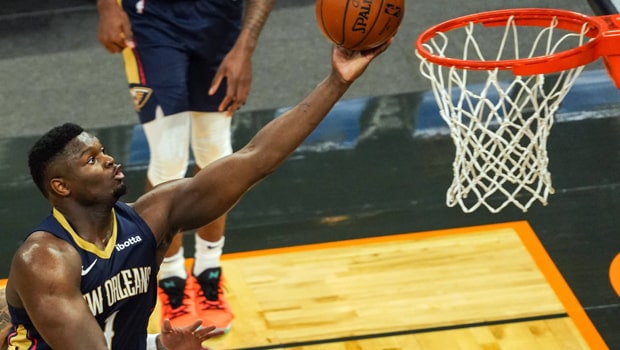 The new season is still months away but many fans and experts are analyzing how different teams will line up for the brand new season and therefore they all have an eye on the New Orleans Pelicans who were fantastic last season after the addition of  CJ McCollum. The combination of CJ and Brandon Ingram alongwith the other pieces worked really well and hence they made it to the playoffs despite missing their primary superstar in Ziopn Williamson who was out with injury.
Now with Zion back in the mix some people feel that they are one of the underdogs to bag the NBA Championship this time where others feel that Zion will disrupt the team dynamics and the roles they had on the court from last season. His presence may also be a disadvantage because many players will have to adjust to his style of play rather than playing freely.
Apart from the powerful trio of CJ, Ingram and Zion they also have players like Herb Jones, Larry Nance Jr. and Trey Murphy III. They just need Zion to be back at his best, a player he was a couple of seasons ago who was known for his speed combined with athleticism. But then adding an All Star in the mix that has already gained success will need some adjustments.
Speaking about the Pelicans, Chicago Bulls guard BJ Armstrong shared his thoughts on the "The Hoop Genius" where he highlighted how Zion may increase the pain for the Pelicans. "Based on what they accomplished last season, conventional thinking would have that the Pelicans should begin, especially with the addition of Zion, you would think that the Pelicans have reached the upper echelon of the Western Conference."
"I would beg to differ. They're gonna have to figure out how to play, and the reason being is because now they're gonna have to figure out the pecking order of the scene. So, now with Zion back in the fold, who do you go to for any play for, like, the end-of-the-game situation?" BJ Armstrong shared how the team needs to work around Zion.
The Pelicans are easily one of the most exciting teams to look forward to as they look to work around Zion Williamson who will return to the court after a couple of years of injury concerns. The addition of Williamson may take the Pelicans a step forward in the right direction but if not handled properly it may come back to haunt the Pelicans.
Leave a comment