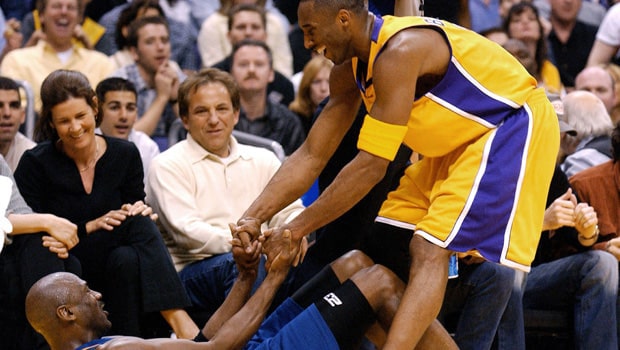 This MJ and Kobe story is one for the ages! Michael Jordan never hesitated to praise Kobe Bryant even at a young age. MJ saw something in Kobe before anybody else. In 1998, during Kobe's third season in the NBA, the Lakers legend made it to the All-Star Game and Jordan was already in awe of him.
Kobe was still very young and trying to find his place in the league, but MJ knew he was special and let people know during the 1998 NBA All-Star Game.
The relationship between Kobe Bryant and Michael Jordan turned into a deep friendship. MJ became a mentor and a friend for Kobe until his last day in this world.
"My year in 1991 versus your peak year, I would have kicked your a**!", Michael Jordan told Kobe Bryant at dinner once.
Kobe's quick response to Jordan was: "Mike come on now, enjoy the salad. We both know that's not gonna happen."
The fact that Kobe had the confidence to say this to MJ is insane!
Widely seen as the best basketball player of all-time, Michael Jordan played 15 seasons in the NBA with the Bulls and Wizards, winning six NBA championships and achieving other numerous accolades. Jordan retired for three seasons before coming back to the league in 2001 as a member of the Wizards for two years. He is the current owner of the Hornets and a member of the Basketball Hall of Fame.
An 18-time NBA All-Star, five-time NBA champion and one-time NBA MVP, Kobe tragically passed away on January 26, 2020. Kobe's game was influenced by Michael Jordan, he never denied it. After Kobe's death, MJ revealed more details about their relationship, calling him a 'little brother' during his memorial service. More recently, Jordan was in charge of inducting Kobe to the Naismith Memorial Basketball Hall of Fame alongside his wife, Vanessa Bryant.
Who wins in a game of 1-on-1, 1991 MJ or Peak Kobe (05-06)?
Leave a comment