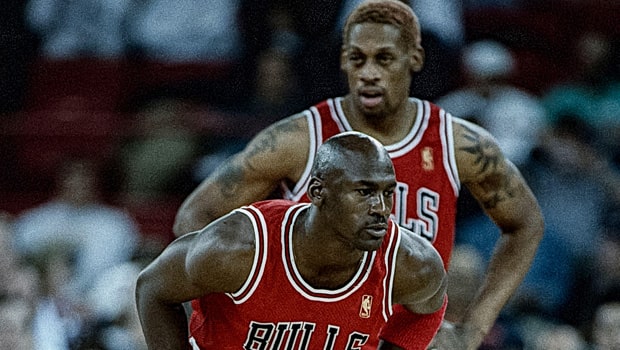 Michael Jordan gave it his all to win every game he played in his career, which is why he demanded a lot from his teammates and sometimes came off as too tough and not the friendliest teammate. It seems that it wasn't always the case, as he seemingly treated Dennis Rodman better than others. Rodman was already a star in the NBA before he joined the Bulls and that possibly helped his relationship with Jordan.
Dennis Rodman said that MJ treated him differently than other teammates because he had a similar will to win as him and — perhaps more importantly — because Rodman already won championships in his previous stops in the NBA. Jordan knew that Rodman knew what it took to succeed and that as a veteran, he could help MJ lead the Bulls to more championships. In an interview with Piers Morgan, Rodman defended Michael Jordan against accusations that he was "a bit of a bully" and could be "unpleasant to play with."
Rodman said he didn't "pull that" on him because of his past with the Pistons and Spurs and because Jordan viewed him as the missing piece that the Bulls needed to get back to the top of the NBA. He also said that he didn't care if Jordan took up most of the spotlight because he didn't need Jordan to help him gain fame.
Widely seen as the best basketball player of all-time, Michael Jordan played 15 seasons in the NBA with the Bulls and Wizards, winning six NBA championships and achieving other numerous accolades. Jordan retired for three seasons before coming back to the league in 2001 as a member of the Wizards for two years. He is the current owner of the Hornets and a member of the Basketball Hall of Fame.
The Pistons drafted Dennis Rodman with the 27th overall pick in the 1986 NBA Draft out of Southeastern Oklahoma State University. A five-time NBA champion, Rodman was a key part of the Bad Boys Pistons team that won two NBA Championships and years later he joined Jordan and Pippen in the Bulls to form perhaps the most formidable Big Three in NBA history. The trio won three NBA Championships in three years. After two tough years with the Spurs, Rodman was traded to the Bulls in October of 1995. Many thought that Rodman would not mesh well with Jordan and Pippen but they were wrong.
Dennis Rodman's rebounding and defensive skills proved invaluable to the Bulls. Many consider Rodman the greatest rebounder of all-time. He played two more seasons in the NBA after winning his third championship in three years with the Bulls and in recent years, he received a lot of media attention because of his friendship with North Korean leader Kim Jong-Un.
Leave a comment