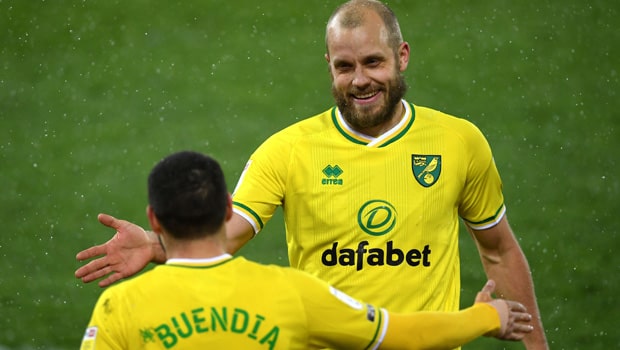 Norwich City, sitting atop of the Championship leaderboard, moved to within five points of securing a return invite to the Premier League when they dominated Huddersfield Town 7-0 on Tuesday. Teemu Pukki led the way with a hat-trick as the Canaries had a 5-0 lead by halftime.
Pukki won Match of the Match honors as he had three goals on five shots. He has 14 goals in his last 12 league appearances, scoring 25+ goals in each of his two Championship seasons. He has 62 goals overall in 114 league matches for Norwich.
Only two players have ever scored hat-tricks for Norwich City in both the first and second tiers of English football: John Deehan (1981/82, 1983/84 and 1984/85), and now, Pukki (2019/20 and 2020/21).
"I needed to score a couple today [after last game]," Pukki said afterwards. "It meant to me a lot to get the goals. It was a wonderful performance [for our team]."
The Canaries got quite a bit of production from Buendía (23′ minutes + assists at 20′ minutes, 29′ minutes, 42′ minutes), Cantwell (29′ minutes), Dowell (42′ minutes), Hugill (78′ minutes).
They played with a sense of desperation after back-to-back draw results vs Blackburn and Preston, now extending their unbeaten streak to 12 matches.
Tuesday's 7-0 win was the biggest league win in close to 70 years.
"The target is to go to Premier League," Pukki added when asked what his 'target' was.
Norwich dominated possession, 68-32, with 11 shots on target compared to just two for the opposition.
"We didn't compete well in any moments of the game," Huddersfield head coach Carlos Corberan said. "It made us feel a lot of pain because we know how many people are supporting us. With this type of game the result is not important. You just have to try and change the feeling of everyone at home because you can't keep conceding goals. We had to play for our [fans] because we want to make them proud, and today was totally the opposite."
Huddersfield get set to host Rotherham this upcoming Saturday in Championship action while Norwich City hit the road for a fixture with Derby.
Leave a comment