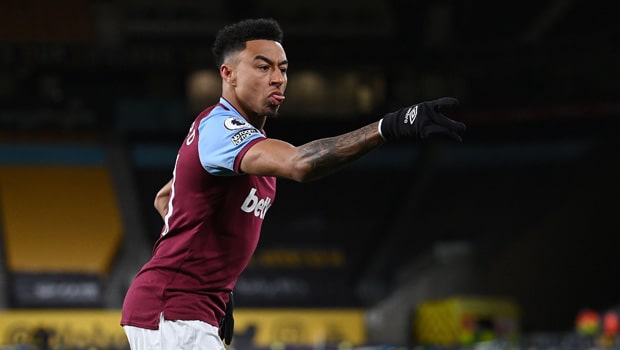 West Ham moved into the top four of the Premier League standings Monday behind a standout performance from Jesse Lingard and West Ham. The 3-2 road win vs the Wolves put them in contention to do something the club hasn't done since 1986 — finish the season in the top 4.
"After 30 games it's not a fluke to be in the top four," said West Ham manager David Moyes. "We're there because we've played well enough. We're not in the final furlong, we've got a couple of big jumps to go, but we're challenging so let's try to do everything to stay there. We're going to go for it."
Lingard opened things up (6′) before Pablo Fornals (14′) and Jarrod Bowen (38′) made it 3-0. Leander Dendoncker (44′) came through for the Wolves just before the break before Fabio Silva (68′) made the final ten minutes or so of regulation quite entertaining.
Eight games. Six goals and three assists in that span for Lingard and West Ham. Absolutely superb. Not to mention eight overall goal involvements in his 8 Premier League matches with West Ham.
Wolves dominated possession 66-34, but finished with 1 fewer shot on target compared to West Ham.
The two goals from the Wolves after West Ham's early 3-0 lead did bring back some memories from the three-goal lead lost vs Arsenal two weeks back.
"Managing the game is something we need to think about doing much better," Moyes added. "We're in such a good position that I think the boys are just enjoying the thought that we can keep scoring more goals."
West Ham get set for a huge Premier League matchup at London Stadium vs Leicester City the following weekend, 11 April (Match Week 31).
Leave a comment