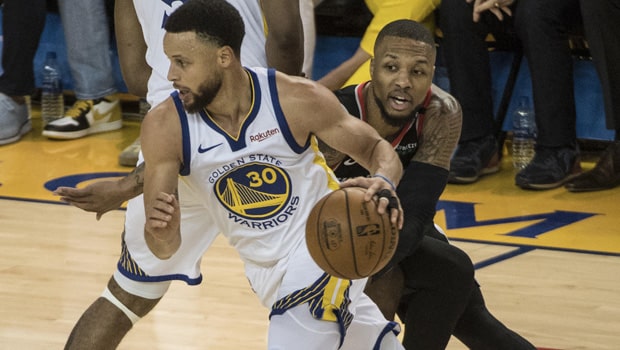 Golden State Warriors have got off to a rollicking start to the ongoing NBA 2021-22 season. The Warriors have a 19-4 record thus far and they are ticking the right boxes both offensively as well as defensively. The team poses a great challenge to the opposition on the offensive line with Stephen Curry playing multiple roles.
Similarly, GSW is doing a fine job in their defensive and not surprisingly they have the best defensive rating of the ongoing season as they have conceded the least number of baskets. In fact, one of the biggest dilemmas for the opposition teams is how they keep Steph Curry at bay as he is just unstoppable at the moment.
Portland Trail Blazers linchpin Damian Lillard revealed that GSW is the toughest to defend with Curry involved in pick and roll situations.
Lillard said in Q&A session, "The hardest team to deal with in pick-and-roll situations, when I'm the defender, I would say probably Golden State. Just because they're so unpredictable, and Steph is always moving, even when he comes off the pick-and-roll."
He further explained, "If you trap him, he's throwing it back and cutting. You know they got people screening and pinning in, screening for him, there's just a lot of things they do out of their pick-and-rolls, even though it's not high value for them. So defensively I would say Golden State with Steph involved."
Meanwhile, GSW conceded only 96 points against Phoenix Suns and they were able to end the opposition 18-match winning streak. However, GSW lost against San Antonio Spurs by 111-107 despite Curry's efforts of 27 points.
GSW has been coming up with collective efforts and they will look to continue their dream form as they are atop of the Western Conference standings. Curry's team will next face Orlando Magic on Monday night.
Leave a comment