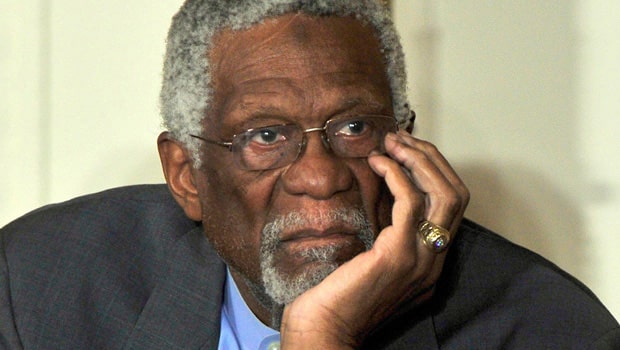 The passing away of Bill Russell has shocked the entire basketball world and people are sharing their anecdotes and stories from their interaction with the great legend. Similarly Chris Broussard shared his thoughts on the great legend of the game in his podcast 'First Things First' as he highlighted how Bill Russell was a magnanimous personality both on and off the court.
The former Celtics legend passed away at the age of 88 after living a fulfilling life where he achieved several accolades and also walked the talk when off court. He will truly be remembered as one of the icons of this great game.
The greatest ever winner in sport, Bill Russell's accolades on court are a part of his life while his achievement off court made him the person who he became. Therefore this feeling of losing him has become very personal. Sharing his thoughts Broussard said, "I'll remember Bill Russell as a great man of tremendous strength, courage and conviction. And that's saying a ton, because you could just remember him as a tremendous athlete. With all that he did as a tremendous athlete, the fact that I and so many others are thinking of him as a great man and what he did off the court first, is incredible."
Broussard then came back to his exceptional achievement on court and pointed out how 11 champions have not been won by any American in all three of their major sports. So Russell will remain as the evergreen winner in American sports history. "He's the greatest winner in American sports history. Period; And it's not even a discussion. This is not a LeBron-Michael Jordan debate. There's no debate. 11 championships is more than any other American athlete in our three major sports has won. And the fact that he did in 13 years is just astounding," Broussard added as a homage to the great career of Bill Russell.
Russell was a icon and an athlete that one can look up to and get inspired. His desire to use his position in sports to bring a change in the society made him a winner forever. His drive to bring changes in terms of social rights and justice made him the man he is today. Therefore people are always acknowledging his achievements on and off the court in American sports. It is definitely an unbearable loss for the entire sporting world but mostly to American sports.
Leave a comment