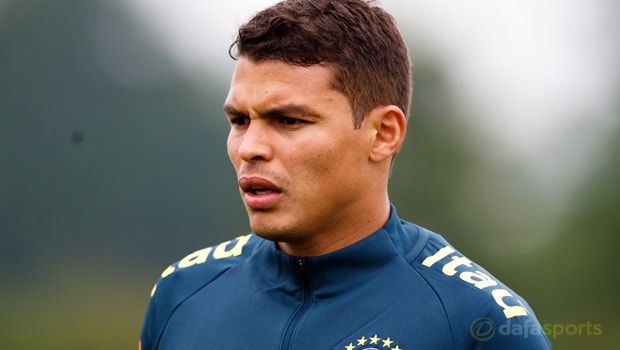 Brazil captain Thiago Silva says he does not know if his team will win the World Cup in Russia this summer but he expects they will be involved in "great matches".
The Paris St-Germain defender admits the current squad is unlikely to emulate famous Brazilian sides of the past, but he feels they are capable of making their mark in Russia.
"We have a chance to play another World Cup and rewrite our story," he said.
"We cannot promise the title, but we can promise great matches. By the time of the World Cup you will see great football."
When Silva talks of rewriting a story he is of course referring to the humiliation of being humbled 7-1 by Germany in the semi-finals in the World Cup hosted by Brazil four years ago.
Brazil are currently training in London as they count down to their Group E opener against Switzerland in Rostov-on-Don on June 16. Silva's Paris St-Germain team-mate Neymar is with them as he attempts to get his fitness up to speed after a broken metatarsal bone.
The 26-year-old forward, who is the most expensive player in the world and widely viewed as talisman for the national team, said he was "not yet at 100 per cent" after surgery on his fractured right foot, but that he was ready to play for his country at the World Cup.
With less than three weeks to go before they face the Swiss, Neymar is happy with his own progress.
"I'm still a bit scared of going all out, but there are still several days before our start," he said.
Brazil are 5.00 to win the World Cup this summer and 4.33 to be knocked out at the quarter-final stage.
Leave a comment