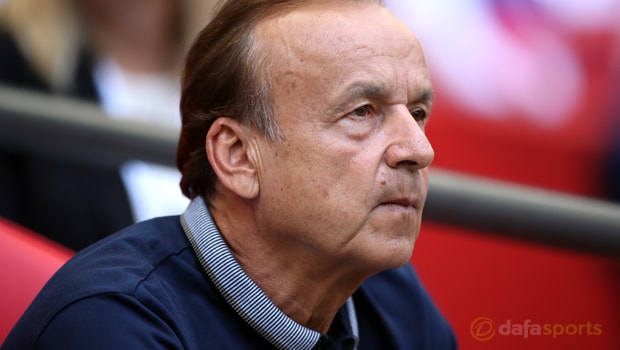 Nigeria head coach Gernot Rohr thinks his side's preparations for the World Cup have been good, despite a pair of losses.
The Super Eagles played two friendly games before jetting off for Russia, against England and the Czech Republic, but could not win either of them as they succumbed to 2-1 and 1-0 defeats respectively.
Nigeria have arguably one of the toughest groups at the World Cup as they face 2014 runners up Argentina, Croatia and Iceland in Group D.
However, Rohr believes his side's performances were good enough to show some encouragement ahead of the World Cup, which kicks off on Thursday afternoon as Russia take on Saudi Arabia.
"This was good preparation and it gives us the possibility to see who was really fit physically, and who has to work more," the German told the media on Wednesday.
"We know what we want to do. We saw, of course, the Croatia team playing the two last friendlies, just like they watched what we did against England and Czech.
"It is very important to be in the right moment in terms of games and motivation for this young team."
Captain John Obi Mikel shares the same optimism, adding the friendlies were an opportunity to experiment.
"We wanted to try something different going into the tournament," the former Chelsea star said.
"Every country has different formations and different players, so it was a good time for us also to try different formations and different players.
"But we know how we play, we know what we can give. Now it's the tournament and we have to focus on the tournament. We want to be Nigeria and play our way, and hopefully we can do that on Saturday."
Nigeria are the clear underdogs at 5.25 to beat Croatia who are 1.73 with a draw available at 3.60.
Leave a comment