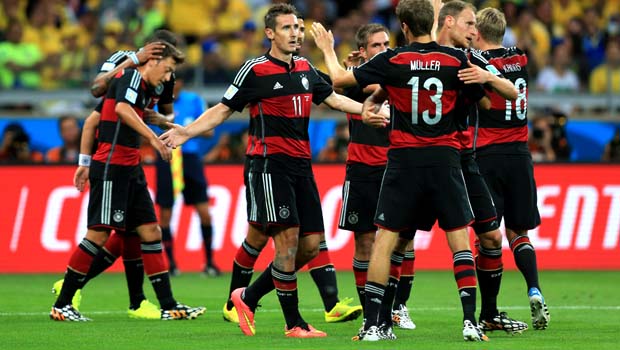 Miroslav Klose, the all-time record World Cup goal scorer with 16, bids to extend his tally in Sunday's final.
Klose became the outright holder ahead of former Brazil striker Ronaldo after finding the net during Germany's 7-1 romp over the hosts on Tuesday, but at the age of 36, Klose is just glad to be taking part.
"The only thing that matters to me is that the team is successful and we'll finally be able to lift the damn thing on Sunday," Klose said.
"I'm just savouring every moment that I'm on the pitch. I'm soaking up all the emotions. Those are my special moments."
Klose, currently playing in Serie A for Lazio, is Germany's all-time leading scorer with 71 goals in 136 appearances, and reckons he has more football ahead of him.
"Unfortunately, I feel like I can still keep going on. I feel like I can drag my corpse around for quite some time.
I'll probably make a spontaneous decision at some point (to retire) but I'm not there yet," he added.
In addition to having to mark 2006 Golden Boot winner Klose on Sunday, the Argentina defenders will also have to all be wary of Thomas Mueller who is the current Golden Boot owner, having scored five times in 2010 in South Africa.
The Bayern Munich player has five to his credit at this tournament, one behind Colombian James Rodriguez, and if Germany turn up in the same mood as on Tuesday, few would bet against Muller, and indeed Klose, adding to their combined World Cup total of a staggering 26 goals.
Leave a comment