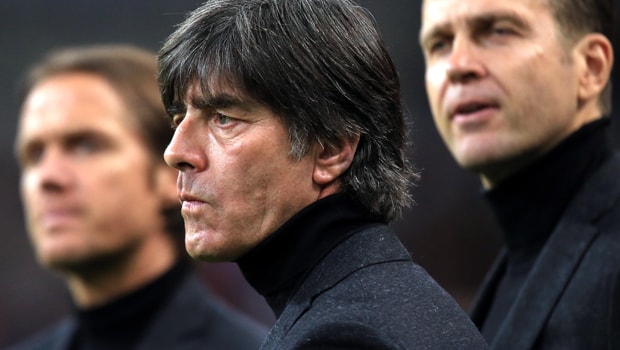 Joachim Low has admitted that world champions Germany did not deserve a last-16 place after they crashed out of Russia 2018 at the group stage.
The 2014 kings were stunned on Wednesday as they lost 2-0 to South Korea in Kazan, meaning the Germans finished bottom of their group. It was the first time Germany have gone out in the first round of a World Cup since 1938.
With his side unable to find a breakthrough in Kazan and in desperate need of a goal, their reign came to a crushing halt in stoppage time at the end of their final match.
Kim Young-gwo scored from close range and while it was initially ruled out for offside, VAR intervention showed that Toni Kroos had inadvertently played the final pass, ensuring a famous goal for South Korea stood.
Germany needed two goals to progress, with Sweden defeating Mexico 3-0 in the other Group F clash, and as they poured everyone forward, goalkeeper Manuel Neuer included, the Koreans nicked possession and launched the ball forward for Son Heung-min to tap into an empty net.
Low is expecting a backlash in his native land. "This is something for us to reckon with," Low said.
"This is historic. I am sure this will create some public uproar in Germany." However, he made no excuses after his side had previously lost 1-0 to Mexico and defeated Sweden 2-1 only via a last-gasp winner from Kroos.
"At this tournament we didn't deserve to win again or move to the round of 16.
We were eliminated not because we didn't want to win but we never had the chance to take a lead at any point – we were always lagging behind, trying to keep up," he added.
Mexico finished second and will play Brazil on Monday, a game they are 7.00 to win, while the Swedes are 3.10 to defeat Switzerland on Tuesday.
Leave a comment