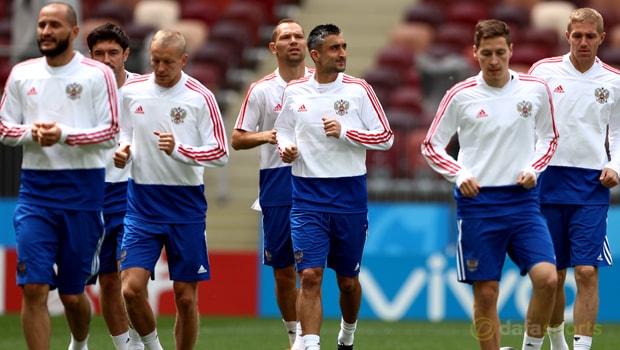 Russia midfielder Aleksandr Samedov says his side's first two games against Egypt and Saudi Arabia are "must win".
The hosts take on Saudi Arabia on Thursday afternoon to kick off the 2018 World Cup, with the game featuring the two lowest-ranked sides in the tournament with Russia all the way down at number 70.
Samedov's men then take on Egypt, who are taking part in their first World Cup for nearly 30 years, in the second game which could be pivotal ahead of the final showdown with Uruguay.
Russia are widely being touted as one of the poorest sides to ever host a World Cup and have not been in great form heading into the tournament, despite the fact they have had to face no competitive games.
They are currently winless in seven matches dating back to October when they triumphed against South Korea. And Samedov thinks his nation must get back to form and win their first two matches in order give themselves a chance of progression. "No matter what, we have to get out of the group.
We must win our first game, then our second and not leave everything to the last minute," Samedov told FIFA's official website.
"I've been at three major tournaments before and every time it's always gone down to the third match for us. Now we have to do everything so it doesn't come to this."
However, the 33-year-old is confident his team has the ability to get through Group A in the World Cup and cause other teams problems.
"We're not sitting around worrying what will happen if it doesn't work out for us. We know what we want and where we're heading," he added.
Leave a comment