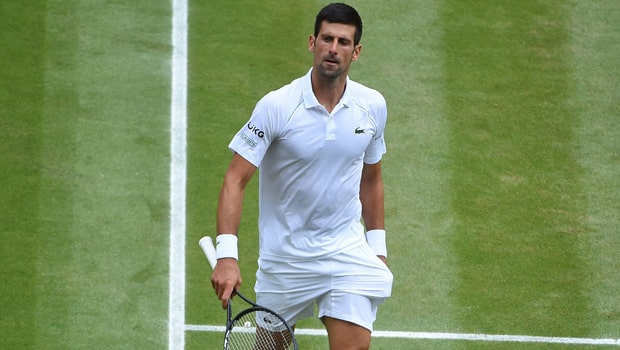 The Tokyo Olympics are knocking at the door and most people have Novak Djokovic as their favourite to clinch the Gold medal at the Singles Men's event. The Serb has won all three Grand Slams this season and is in fiery form and with both Roger Federer and Rafael Nadal withdrawing from the Summer Games, it makes life easier for Djokovic.
However, the recent Wimbledon winner has claimed that he is also eyeing the top prize in Tokyo. While there is no question about his form at the moment, fatigue can be an area of concern for the 34-year-old.
Ahead of his Olympic action, Djokovic told reporters that his schedule has been pretty rough, especially for the last month. But he also made it clear that he is participating in the showpiece event to win the coveted Gold medal.
"It is gruelling, but I am confident because of all of the wins this season," Djokovic said. "Winning a medal is my goal, and it is not a secret I am aiming for the gold. After Tokyo 2020, I will start to think about the US Open."
If the 20time Grand Slam winner manages to clinch Gold in Tokyo then he will have a chance to win the Career Golden Slam. It is a feat only achieved by Steffi Graff and it will be historic for the Serb as well. Other than Graff the world has not seen anyone else win all four Majors and the Olympic Gold in the same calendar year.
Djokovic revealed that he was unsure regarding his participation in the Tokyo Olympics mainly due to the pandemic and also his rough schedule. But a talk with Croatian runner Blanka Vlasic forced him to change his mind.
"I've met Blanka Vlasic recently and she told me that in the future people won't remember the conditions or whether there were people in the stands, but who has won medals," Djokovic revealed.
He admitted that finally, it was his urge to represent Serbia at the biggest stage of sports. Therefore that made his final decision a lot easier.
"Representing your country at the Olympics is a feeling like no other. I am not overjoyed about playing with no fans present or about the various coronavirus restrictions effective in Japan, but representing your country in the Olympics is indispensable," the current World No. 1 concluded.
Leave a comment