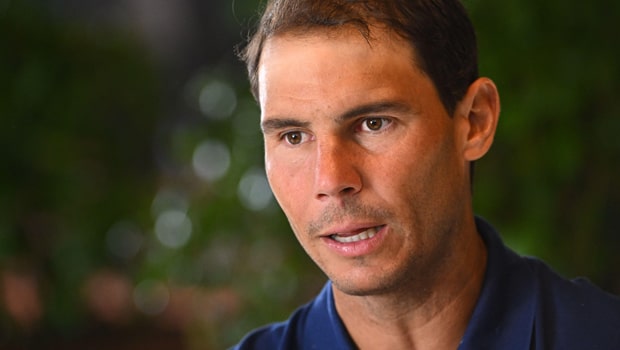 Tennis veteran Rafael Nadal believes the Wimbledon ban on Russian and Belarusian players is unfair. The All England Club – the Wimbledon organizers – decided to put a ban on Russian and Belarusian players to participate in SW19 due to Russia's invasion of Ukraine.
Nadal added that it is not the player's fault and he is hopeful that the tour can find a way to interfere with the ban. Russian players like Daniil Medvedev, Andrey Rublev, and Karen Khachanov won't be able to take part at Wimbledon this year due to the ban.
Moreover, Belarus is considered an ally of Russia and permitted Russian troops to invade Ukraine from across its border, thus its players will also have to face the brunt. Thus, last year's semifinalist Aryna Sabalenka won't be able to participate.
"It's unfair for my Russian colleagues," said Nadal. "In that sense, it's not their fault what's happening in this moment with the war. "I'm sorry for them. I wish it was not this way, but at the end of the day we know that this is what we have."
Nadal feels sorry for the players who will be missing out on Wimbledon as political affairs are not in their control.
"As a fellow player, what can I say? I feel sorry for them," said the 35-year-old two-time Wimbledon champion. "I wish this was not the case. Let's see what happens in the coming weeks and let's see if we as players need to take a stand. There is something wrong."
In fact, the British government gave a recommendation regarding the ban on Russian players but Nadal feels the All England Club took the most drastic option.
"When a government orders something, you need to follow the rules," he said. "In this case, the government issued a recommendation and Wimbledon decided to impose the most drastic option without being forced to do so."
Meanwhile, Grand Slams are independent of ATP and WTA but the tours grant 2000 ranking points for a major.
"We know that Slams are outside the ATP, but as ATP we grant them the most points of all events," said Nadal. "They are the most important. The 2,000 points, whenever we go to the Grand Slams, they are really important and we have to go to those tournaments. So we will have to see the measures that we take, and it's very unfair thing for them, for sure."
Leave a comment