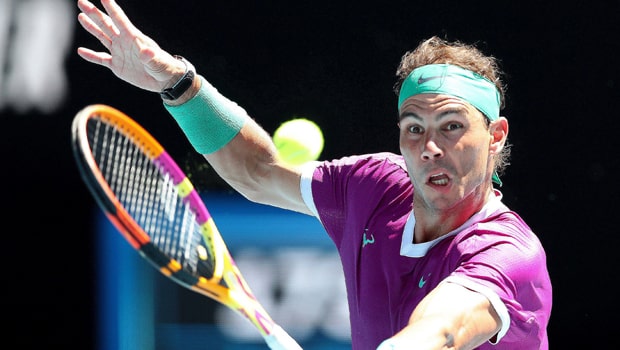 Tennis legend Rafael Nadal has admitted that every comeback is tougher with age but feels this one has been the most difficult which he has made in his long career. Nadal has made a return to competitive Tennis after recuperating from a foot injury.
The Spaniard had to miss Wimbledon and US Open in 2021 due to the same injury and it hasn't been an easy road for him in the last six months. Nadal made his comeback in Mubadala World Tennis Championship in Abu Dhabi but was knocked out early.
Subsequently, Nadal went on to clinch Melbourne Summer Set 1, which must have given him a whole lot of confidence before the start of the all-important Australian Open.
Nadal made a promising start to his campaign in Happy slam as he rolled over America's Marcos Giron in straight sets by 6-1, 6-4, 6-2 on Monday.
"When you get a little bit older, all the comebacks are tougher," Nadal said. "This has been especially difficult because it is not only a comeback from an injury, it's a comeback trying to be back on the tour after almost two years of not playing many events with the virus."
Nadal reflected on his last two years and added that he has played only a dozen tournaments due to injury woes.
"If you remember in 2020 I only played here and Acapulco, then I just played in Rome, Roland Garros, Paris and London. Six events. In 2021 I played just here and then it was clay – Monte-Carlo, Barcelona, Madrid, Rome, Roland Garros. Washington, yeah. Another six events," Nadal said.
"12 events in two years is not many. If we add that I was not able to practice very often too, it's really tough. But here I am. I am super happy about all the work that I have done to try to be back. I am here enjoying tennis, and that's it. I'm going to keep trying hard."
Nadal has been a fighter during his glorious career and he is going to keep fighting as long as he can despite injury hurdles. The Spaniard will face Yannick Hanfmann in his second-round match of the Australian Open and will look to continue his good show.
Leave a comment