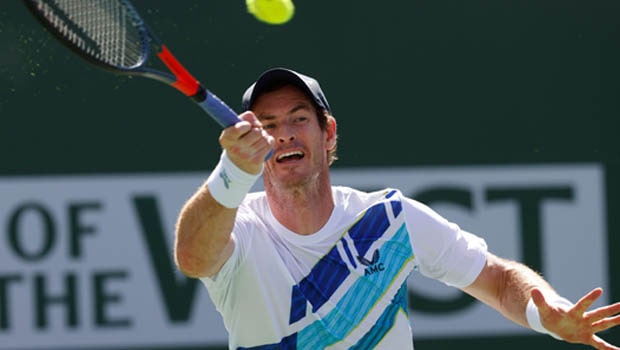 Former World no.1 Andy Murray feels he had to work his socks off to win his maiden slam title. Murray lost thrice against Roger Federer in the Grand slam final and once against Novak Djokovic before finally becoming a slam-winner. When the Brit lost these heartbreaking four finals against Roger Federer and Novak Djokovic, both of these players were already slam winners at that time.
In fact, when Roger Federer, Novak Djokovic, and Rafael Nadal won their first major title, they were up against relatively inexperienced players, who weren't slam winners.
Federer won his maiden Grand Slam at Wimbledon in 2003 as he defeated Mark Philippoussis in the final. Rafael Nadal won the 2005 French Open after beating Mariano Puerta in the final.
Novak Djokovic register his first Slam title at the 2008 Australian Open when he defeated Jo-Wilfried Tsonga in the final. Murray, on the other hand, recorded his first-ever slam win after he defeated Novak Djokovic in the 2012 US Open final.
Meanwhile, Andy Murray registered his 700th ATP win after beating Japan's Taro Daniel in the first round of the Indian Wells by 1-6, 6-2, 6-4.
"When I was competing to win Slams, I played Roger Federer a couple of times. I played Novak Djokovic – who maybe I didn't know at the time, but [look at] what he's gone on to achieve," Murray said. "Obviously, really tough finals against guys that won Majors beforehand."
"I was chatting just the other day with one of the guys that I'm working with. When Roger [Federer] won his first slam, he won against [Mark] Philippoussis in the final. Rafael Nadal beat [Mariano] Puerta in the final. Novak [Djokovic] bit [Jo-Wilfried] Tsonga," Andy Murray said. "None of those guys had won Majors before either."
On the other hand, Andy Murray rated his 2012 London Olympics Gold medal as the best win of his career. Murray had suffered a loss in the 2012 Wimbledon final against the Swiss Maestro however the Brit was able to avenge his defeat.
"When I lost that Wimbledon final in 2012 against Roger, there was still pressure building, questions getting asked about me and whether I could win a Grand Slam, whether that was possible," Murray said. "I was asking myself those questions as well. I was working really hard to get there, and I was not managing to quite get over the line."
"After that match, I was obviously very upset for a few days after that, kind of accepted I guess that it might not happen, [that I] may not win a major. But what I could control was the effort and everything that I was putting into trying to keep going, keep improving," he said.
Andy Murray will take on Alexander Bublik in the second round of the BNP Paribas Open.
Leave a comment