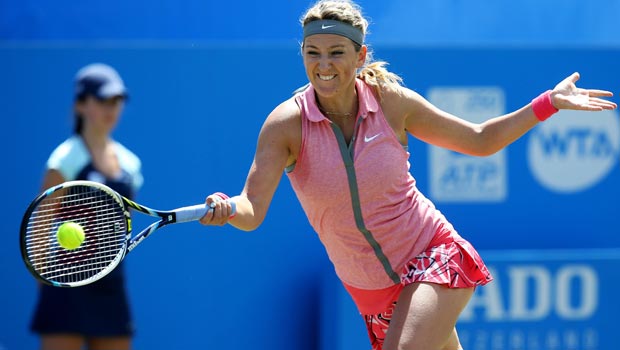 Victoria Azarenka was unable to make a successful return to action as she suffered a surprising defeat at the AEGON International in Eastbourne, but insisted she was pleased with her comeback.
The Belarusian star had been out with a foot injury since March, and was forced to miss the French Open, and was beaten 4-6 6-3 7-5 by Italy's Camila Giorgi in the first round at Eastbourne.
The two-time Australian Open winner was in fine form early in the contest, but she was unable to maintain the pace and eventually fell to defeat.
Despite losing, Azarenka did at least get two hours and 47 minutes of competitive action under her belt in only her second match since January, and found plenty of reasons to be positive.
She said: "I wanted a competitive match to test myself. The most important thing was that I was there playing and I was healthy.
"I can always get better from here. I didn't expect a perfect match, but there are a lot of positive things that came out. I wanted to test myself and that's what I did.
"It feels great to know that I'm able to move how I want and not have my face like this (flinching) every time I step.
"I was really happy that I was there, you know, for every single moment, for every single ball.
"I felt that my level of concentration was really high. You know, as the timing [and] mistakes, it all I think was expected. I just have to get into that rhythm.
"I'm up for that challenge – I love working hard?"
The 24-year-old will now begin her preparations for Wimbledon at the end of the month, where she has been seeded eighth. Despite a lack of playing time, she will be hopeful of improving for the year?s third Grand Slam event after reaching the semi-finals at SW19 in both 2011 and 2012, although injury ended her tournament early last year in the second round.
Leave a comment