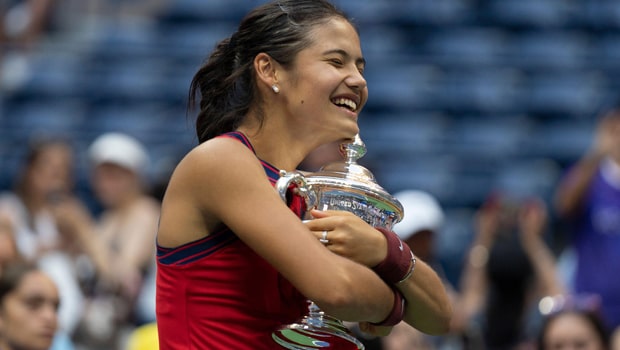 18-year British Tennis sensation Emma Raducani created history as she won the US Open by beating Canada's Leylah Fernandez 6-4, 6-3 in the final. Emma Raducanu was ranked 150 before she entered the US Open as a qualifier. She won three matches in qualifiers and then seven matches in the main draw. She didn't even drop a set on way to her maiden Grand slam title.
She also becomes the first qualifier to win a Grand slam without dropping a single set. Furthermore, she has become the first British player to win a Grand slam title since Andy Murray. Moreover, the 18-year old became the first woman to win the US Open without dropping a set since Serena Williams in 2014.
Thus, the youngster broke a plethora of records after winning her first major title at the Arthur Ashe Stadium on Saturday night.
"It means everything to hold this trophy and I don't want to let go right now!" Raducanu said. "Yesterday there were weird feelings I couldn't put my finger on, I think that's just normal, when I came out it was business as usual, one point at a time. I had to fight hard for that first set and keep myself ahead in the second."
Raducanu also heaped praise on her opponent, Leylah Fernandez, who also made an inspiring run at the US Open, as a 19-year old. The Briton added that she knew she had to dig deep against the Canadian.
"Leylah is always going to play great tennis and fight, that is why she is in the final, I knew I would have to dig deep," Raducanu said. "I fell somehow and thought that would throw me off balance – I was praying not for a double fault! We got through it and focused on the process and mindset, which really helped in those tough times.
"It shows the future of women's tennis and depth of the game is so great, every player in the draw has a shot at winning any tournament, I hope the next generation can follow in the steps of some of the legends, for example, Billie Jean right here."
Leave a comment