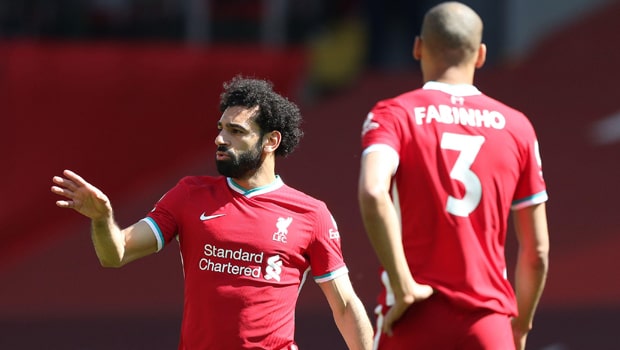 Liverpool's Mohamed Salah scored his 100th Premier League goal as the Reds thrashed Leeds United 3-0 on Sunday at Elland Road.
The match was marred by a serious injury sustained by Liverpool's youngster Harvey Elliott, who was stretchered off with a dislocated ankle in the second half.
However, Egyptian forward Mohamed Salah had put the team in front as early as the 20 minute for his 100th Premier League.
Fabihno made it 2-0 after the break before Sadio Mane scored in added time to put the Reds among the teams at the top of the Premier League table.
Jurgen Klopp's side are on ten points, level on points with Manchester United who top the league based on goals difference after beating Newcastle 4-1 in a Cristiano Ronaldo inspired win on Saturday.
The Red devils had Ronaldo on the starting line up and the Portuguese scored the opening game of the game before adding a second in a 4-1 at the Old Trafford.
Despite what seemed like a routine victory, Ronaldo revealed he was nervous before the start of the game.
"It is unbelievable. When I started the game I was so nervous, I swear, I did not expect that they would sing my name all game. The reception is incredible but I am here to win games and help the team. It was an unbelievable moment. I was super nervous and was thinking last night that I wanted to play good and show I was still capable of helping the team. This club is unbelievable and I am so proud." He said.
Meanwhile, Romelu Lukaku also scored a brace on Saturday as Chelsea beat Aston Villa 3-0 at the Stamford Bridge while Arsenal also got their first win of the season with a 1-0 over Norwich City courtsey of Pierre Emerick Aubameyang.
Leave a comment