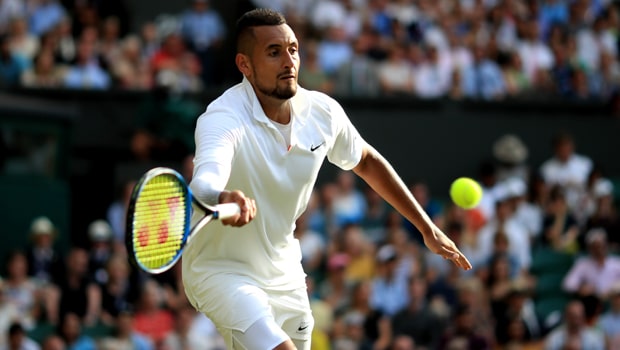 Nick Kyrgios insists he did try to hit Rafael Nadal with the ball during their ill-tempered second-round clash at Wimbledon.
Nadal came through 6-3 3-6 7-6 (7-5) 7-6 (7-3) and will next face French veteran Jo-Wilfried Tsonga for a place in round four. However the score line does not tell half the story, with Australia's Kyrgios up to his usual on-court antics.
The pair have a history after a few tetchy encounters in the past, with Nadal accusing the Aussie of being "disrespectful" after he served underarm in a match earlier this year.
He did the same at the All England Club on Wednesday, causing the Spaniard to smile as his earlier words had clearly gone unheeded.
Kyrgios has had many run-ins with officialdom and was at it again against the left-hander, calling the referee a "disgrace" for letting Nadal take what he felt was too long in between points.
Whether or not he has a valid point is open to debate as many players have complained about the issue with the Majorcan in the past, but the authorities will take a dim view of his language toward the man in the chair.
One potential flashpoint occurred when the 24-year-old aimed a shot at his opponent and, when questioned on the matter post-match, he admitted his actions and saw no reason to say sorry. "Why would I apologise? I won the point," he said.
"I was going for him. I wanted to hit him. "The dude has got how many Slams, how much money in the bank account? I think he can take a ball to the chest."
Kyrgios's grass-court campaign is now over but Nadal is priced at 1.17 to beat Tsonga who can be backed at 4.75.
Leave a comment