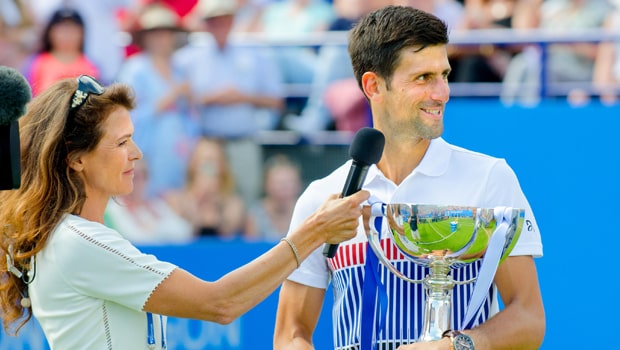 It is well known that the crowds mostly support whosoever is playing against the World No.1 Novak Djokovic. There is no doubt that Djokovic has never got the respect he deserves for his accolades, maybe because of his on-court antics. Djokovic is mostly compared with Roger Federer and Rafael Nadal, both of whom are known for their humble nature.
However, Djokovic has always been involved in some controversies and he hasn't received the backing from the crowd. In fact, Djokovic has been booed by the crowd on multiple occasions but he has delivered in the testing conditions and especially when he has his back against the wall.
Former British number 1 Annabel Croft feels the treatment which Novak Djokovic receives from the fans is painful to watch.
"It has been painful to watch at times and I remember being at the US Open in 2015 when Novak was playing Federer and the entire crowd seemed to be again him," says Croft. "There was silence when he hit a winner and cheers when he missed and the courage he showed to win that match was remarkable.
"I was court-side and couldn't believe there were 20,000 people baying for his blood and hoping he would lose. It was cruel in many ways. "This was like watching a gladiator out there getting torn to shreds by the crowd. It sends shivers down my spine recalling what it felt like and he didn't flinch. He was so well prepared emotionally to deal with that, it was so impressive."
On the other hand, Croft likened Djokovic with former World no.1 John McEnroe who was well known for his on-court antics and fights with the umpire. Djokovic has also been involved in a lot of heated arguments with the chair umpire in his career.
"I really hope Novak gets the adulation and love that he is deserving of given his achievements in the game. "Having grown up in the [John] McEnroe era, he was so unpopular in the 1980s. He was vilified as the real baddie of the sport. "He dominated the headlines for being brattish and someone said to me at the time that in due course, he will get the love and I think that can also happen with Djokovic."
Leave a comment