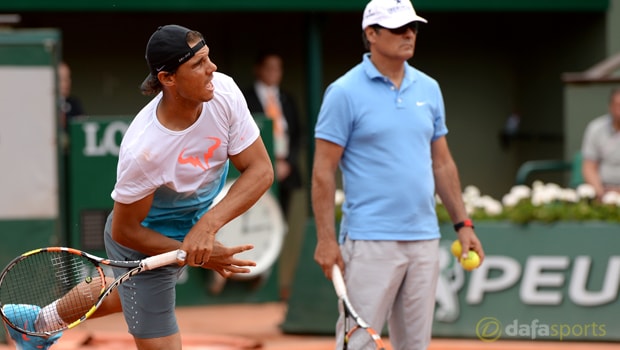 World number one Rafael Nadal is capable of matching Roger Federer's haul of Grand Slam titles, according to his coach and uncle Toni Nadal.
The Spaniard has returned to his best form in 2017 after bouncing back from a couple of tough seasons marred by injuries.
Nadal, who is priced at 4.20 to win the 2018 Australian Open, started the campaign by reaching the final of the Australian Open, however Federer proved too strong at the first Grand Slam of the year.
The Majorcan then went on to lift the French Open crown for the 10th time in his career before also triumphing at the US Open last weekend.
The 31-year-old made easy work of South Africa's Kevin Anderson 6-3 6-3 6-4 in New York to take his tally of Grand Slam titles to 16.
Long-term rival Federer boasts 19 Grand Slam victories as the pair edge closer to retirement but Toni, who is set to step down as Rafa's coach at the end of this season, believes his nephew can close the gap over the next few years.
Toni said: "I think it will happen. It's difficult but there is some more Roland Garros and I am confident other titles will come.
"When he was 12, 13 or 14, you never think he will get to this level.
I am very happy to see my nephew lift so many trophies, knowing that he has achieved another piece of history.
"He has won a hard-court tournament for the first time since 2014. We are very happy that he has won another Grand Slam, his 16th, and is in a position to fight for number 17.
"It was unimaginable that would happen, of course, but I had faith that Rafael would win one more Grand Slam, I tell you truthfully."
Leave a comment