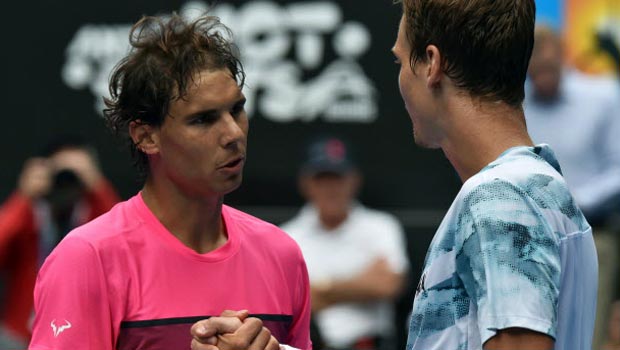 Tomas Berdych ended his long losing run against Rafael Nadal in spectacular fashion to move into the semi-finals of the Australian Open.
The Czech had not beaten Nadal since 2006, losing 17 matches in a row, a sequence that equalled a record in the open era.
However, he showed his class in Melbourne as he smashed the Spaniard to win in straight sets 6-2 6-0 7-6 (7-5).
Nadal struggled just to win games throughout the match as Berydch stunned the Australian crowd by marching into the last four.
The eight-time French Open champion's loss to Roger Federer in the 2006 Wimbledon final was the last time he failed to win a game during a set and the world number three admitted after the contest that he was never able to compete.
Berdych has been working with Andy Murray's former coach, Dani Vallverdu, and he was delighted to see his gameplan work to perfection.
"I was definitely ready for it, I set up my plan pretty well and stuck with that all the way through the three sets," Berdych said in an on-court interview. "I was expecting a very tough battle but I was ready for everything and I think that was the biggest difference.
"I started pretty well but you are playing Rafa and you have to really keep going until the last point. You have to be ready for everything.
He is a great fighter but I stayed focused and kept doing my stuff and it was working pretty good."
He will now face the winner of Tuesday's other quarter-final clash which sees Andy Murray take on home favourite Nick Krygios for a place in the semi-finals.
Leave a comment