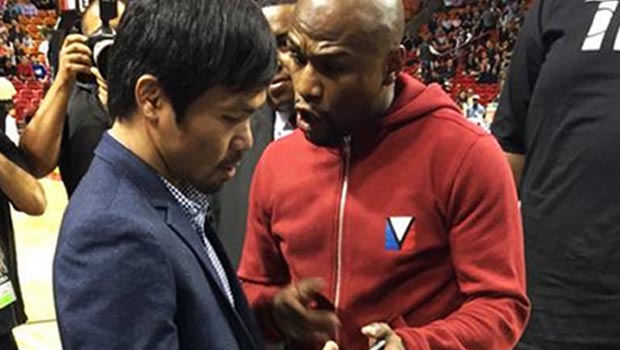 Manny Pacquiao insists he is confident that he will eventually face unbeaten rival Floyd Mayweather Jr this year.
The pair have been linked with a big-money showdown since 2011 but neither camp have been able to agree terms on a fight. Since then, both fighters have continued to show their class against other members of the welterweight division.
This year, boxing fans may get the chance to see one of the biggest fights in the history of the sport and Pacquiao insists his work is done.
His advisors claim they have agreed to fight Mayweather in Las Vegas on May 2, while the American insists no contract has been discussed.
Blood testing and money splits have caused problems before but Pacquiao claims he will take a smaller fee to make sure the contest happens.
He told Ringside Special: "I think it will happen, I believe that.
"If this doesn't happen now I don't think it will, so now is the time. If you ask me what the percentage is, it's 80-20.
"I think he's got pressure. He's got no alibi – blood testing is no longer a problem, Bob Arum the promoter is no longer a problem, now there are no more problems.
"The fans are pressuring him. I tell them we have agreed everything, the rules and regulations are not a problem.
"And if you want it higher, I am happy with that. I will take 40 to 60. I'm OK with that – for the sake of the fans. We are just waiting for you to sign the contract."
Leave a comment