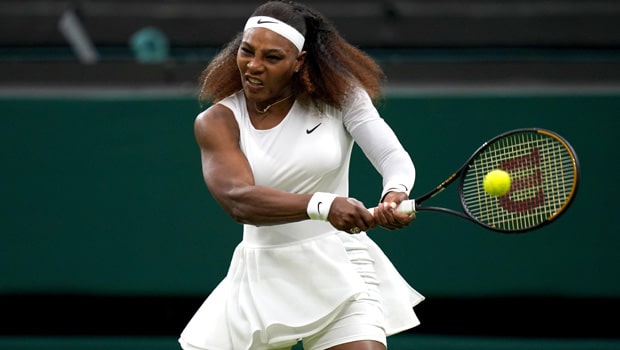 Serena Williams will be seeking her eighth title and an impressive 24th major win as the 23-time major champion confirmed she'll compete at Wimbledon.
This will be her 20th Wimbledon tournament, leaving the competition last year in tears following a retirement against Aliaksandra Sasnovich in the opening round. She'll get back to the court for a short at major title No. 24.
The All England Club announced on Tuesday that Williams was awarded a wild-card entry for singles.
The 40-year-old American has won seven of her singles trophies at Wimbledon, the first almost 20 years back in 2002, and more recently in 2016. She finished as the runner-up in 2018 and 2019. Wimbledon was canceled in 2020 due to the coronavirus pandemic.
She is set to get back to playing form by tuning up through a doubles-event with Ons Jabeur next week at Eastbourne, England.
"It's a date. 2022, see you there," Williams said on social media.
Main-draw play at Wimbledon begins on June 27.
"I should have been at like 30 or 32 (grand slam singles titles)," Williams told CNN earlier this year. "I should have had it (the record), really, I've had many opportunities to have it. But I'm not giving up."
Williams also missed the January Australian Open tournament after her medical staff suggested she wasn't in the physical condition needed to 'compete.'
Williams has not won a major title in more than five years. Her most recent victory was at the 2017 Australian Open.
"I think it's great to see her give herself one more chance to do something special," Rennae Stubbs, former coach, player and ESPN analyst said. "Hopefully she will be physically able to manage the load and the matches. If she gets some wins under her belt, you never know."
Williams recently also joined forces with Jamaican track legend Usain Bolt to help UK-based sports platform 'Let's Do This' to raise millions of dollars for the community.
"I love sport and have seen first-hand the positive impact it can have on people's lives," Williams added. "But many people are often held back from discovering sport and the benefits it can bring them. 'Let's Do This' breaks down this barrier by allowing people to discover new ways of keeping fit, encouraging them to push themselves, and providing a sense of community and camaraderie in the process, irrespective of fitness levels.  This is a mission that I am proud of – bringing more people together through the power of sport."
Williams enters the tournament at No. 1,208 in the WTA rankings. Iga Swiatek sits in the top spot, backing up her dominance on a 35-match winning streak that included her second-straight French Open trophy. Swiatek's 35-match streak is one more than the 34-match streak Williams had in 2013.
Bringing Williams back to the All England Club should provide for quite the storyline(s) this summer.
Leave a comment