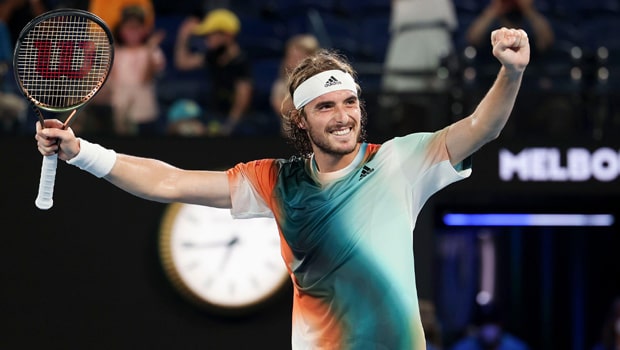 Stefanos Tsitsipas made it to his third Australian Open semifinal after he rolled past Italy's Jannik Sinner in straight sets by 6-3, 6-4, 6-2 at the Rod Laver Arena on Wednesday. The Greek won 78% of his points on his first serve and won 68% on the second serve. Tsitsipas was delighted with the way he served throughout the match.
Tsitsipas started the match strongly and made the most of the momentum as Sinner failed to match his opponent. In fact, Tsitsipas had to battle hard in the fourth-round match against America's Taylor Fritz but he was able to come up with a dominating performance in the quarters.
"Jannik is a very good player. So I tried to focus on my best shots and it paid off more than I thought," Tsitsipas said in his on-court interview. "I am very, very happy with the way I served today and the way I came in and used my tactics in today's match structure. Having the crowd support is truly unbelievable."
Meanwhile, rain halted the match in the second set when Tsitsipas had taken an early break. It was a much-needed break for Sinner but Tsitsipas was able to continue his domination after the rain interval. The match was then played indoors as the roof was closed.
"It is part of the game," Tsitsipas said on the roof closing. "I knew I was heading towards the right direction with the game I managed to create from the start of the match. The conditions changed when the roof was closed, slightly faster. I tried to adapt to these new conditions and it just worked."
Tsitsipas ticked the right boxes as he brought his A-game to the table against the Italian. The Greek kept growing in confidence and carried the momentum.
In fact, Tsitsipas recently had elbow surgery and there were doubts regarding his Australian Open participation. Tsitsipas' Doctor had told him that he may not take part in the Happy slam but the youngster proved him wrong.
Tsitsipas will take on either Felix Auger Aliassime or Daniil Medvedev in the semis.
Leave a comment