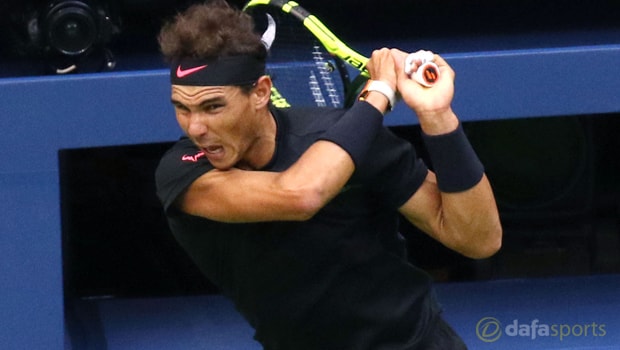 Rafael Nadal is confident his knee injury is not serious enough to prevent him from playing at the ATP World Tour Finals.
After taking time off last year, the Spaniard and his team have carefully managed his schedule in 2017 in order to allow his body to recover and the policy has clearly paid dividends, with wins at both the French and US Opens.
London is the last stop on the ATP calendar but there were doubts over Nadal's participation following his withdrawal from the Paris Masters.
He immediately travelled to see his doctor but despite fears of a reoccurrence of his previous knee troubles, scans showed there was no last damage. The 31-year-old has spent the last few days recovering and has now set his sights on a maiden Finals victory.
Nadal is 4.75 to win at the O2 Arena, with long-time rival Roger Federer the clear 1.50 favourite.
The Spaniard will begin his campaign on Monday against David Goffin in a match he is 1.22 to win and will also face both Grigor Dimitrov and Dominic Thiem in the group stages.
Despite fears over his fitness, Nadal is confident he will be ready to go once he steps on court. "Hopefully the knee is good," he told Sky Sports.
"I've done everything I've needed to do in order to get ready for London. Now it's the moment to wait and practice at the O2 over the next couple of days.
Let's see if I am able to be 100 per cent to compete. "I went back home and visited the doctors to do some treatment. I expect the treatment to work and be ready for here.
"I know I'm confident because I'm having a great season with one event to go. I am here to try my best."
Leave a comment