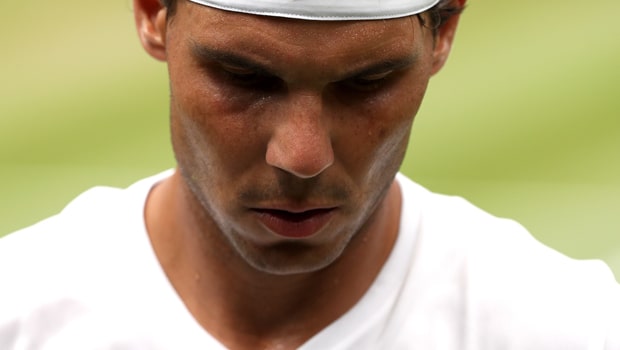 Rafael Nadal suggested Australia's Nick Kyrgios 'lacks respect for the public, the opponent and himself' in the wake of a controversial loss at the Mexican Open.
The 17-time Grand Slam champion lost a dramatic second-round match to the world number 72, going down 3-6 7-6 (7-2) 7-6 (8-6) in what was Nadal's first tournament since he lost the Australian Open decider to Novak Djokovic in January.
Top seed Nadal, twice a champion at the Mexican event, took only one of his 10 break-point chances and allowed three match points slip by in the final set tie-break.
Kyrgios had called for the trainer after losing the opening set, though he moved without pain seemingly in sets two and three.
The Aussie also got a warning from the chair umpire having told a lively crowd to "shut up" at one stage.
Kyrgios served underarm late on during the match against the Spaniard and the pair enjoyed the briefest of handshakes at the net afterwards. Nadal says the 23-year-old has the talent to be amongst the world's best, though perhaps not the attitude.
"He is a player who has huge talent, who could be winning Grand Slams or fighting for first position in the rankings," said Nadal, who added: "He lacks respect for the public, the opponent and himself.
"There's a reason he is where he is. He is a very dangerous player but lacks consistency. I don't think he's a bad guy. I think he's a good guy."
Kyrgios moves on to face another Grand Slam champion in Stan Wawrinka in the last eight and he defended himself in the face of Nadal's comments.
"I'm different, Rafa's different," said Kyrgios. "He doesn't know the journey I have been through. He doesn't know anything about me so I'm not going to listen at all.
"That's the way I play. He's very slow in between points. The rule in the book says you have to play at the speed of the server. Rafa has the speed every time.
"I'm not going to comment on his game. He has got his game and I have got mine."
Kyrgios is 6.50 to win the Mexican Open in Acapulco, with Wawrinka 4.00 and second seed Alexander Zverev favourite at 2.75.
Leave a comment