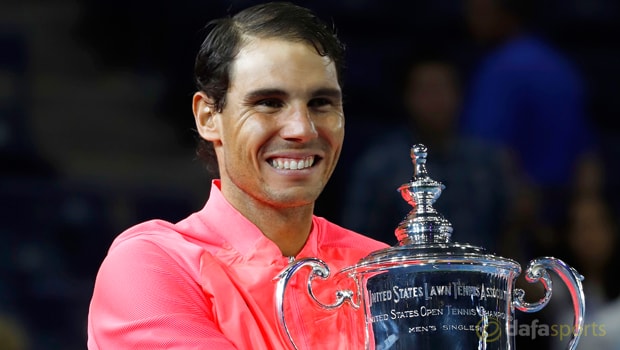 Rafael Nadal says he is not thinking about matching Roger Federer's Grand Slam record and the Spaniard is only focusing on the now following his US Open triumph in New York on Sunday.
Nadal, who won the French Open this year for a 10th time, produced a fantastic performance at Flushing Meadows to overpower South African Kevin Anderson in the final.
The Spaniard clinched victory in three sets, winning 6-3 6-3 6-4, to take his Grand Slam tally to 16 whilst also strengthening his position at the top of the world rankings.
Many are now claiming the 31-year-old can go on to challenge all-time Slam record-holder Federer, who has 19 to his name, before deciding to end his career.
Nadal certainly appears to be back to his best, having won two of the 'big four' tournaments this season, but he admits thoughts of overhauling his Swiss rival are at the back of his mind.
"I really never thought much about that," he said.
"I just do my way. He does his way. Let's see when we finish. Of course, if I will win two Grand Slams this year and he will not win, we'll be closer, but he has 19, I have 16. So three is a big difference.
"I'm very happy with all the things that are happening to me, winning this title again.
I have this trophy with me." For Anderson, he will be hoping the US Open is the not the only time he experiences a Grand Slam final after failing to raise his performance levels against Nadal.
The 31-year-old enjoyed an impressive tournament, knocking out the likes of Spaniard Pablo Carreno-Busta and big-serving American Sam Querrey.
Leave a comment