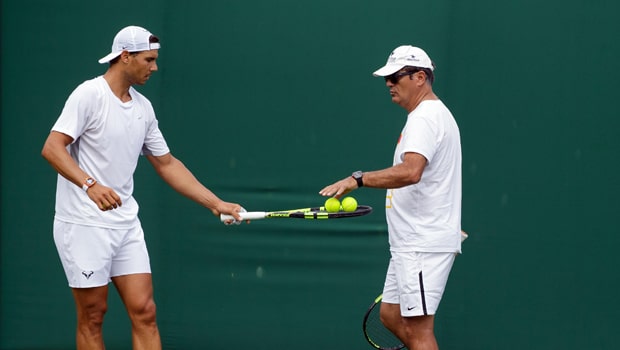 Rafael Nadal's former coach and uncle Toni Nadal has rated the Spaniard as the favorite for the French Open title. Rafael recently created history as he won his 21st Grand slam title by defeating Daniil Medvedev in an epic Australian Open final in five sets at the Rod Laver Arena on Sunday.
Nadal had entered the Australian Open with not many expectations as he was returning from a foot injury and had also recovered from Covid-19. However, the Spaniard showed why he is a world-class player as he was able to go all the way to win his second Australian Open title.
Meanwhile, Nadal is always the favorite for the French Open and has won Roland Garros on 13 occasions, which is the most for any player. Nadal had a 13-0 record in the finals of the French Open and he has only lost three matches at Roland Garros.
The 35-year old had last won the title back in 2020 when he defeated Novak Djokovic but lost to the Serbian in an iconic semifinal in the previous edition.
"As for the next Roland Garros, Rafa is the favorite for the title. If he is in good form, he can beat Djokovic and triumph," Toni told Movistar, according to We Love Tennis.
Meanwhile, despite being two-set-to-love down against Daniil Medvedev, Nadal kept believing in himself that he could make a comeback. Eventually, he went on to win the last three sets and the match lasted 5 hours and 24 minutes.
"At that moment, of course, the situation was critical," said Nadal, "but sport is unpredictable. The normal thing is to lose the match in straight sets from that situation. On the other hand, I had a big chance in the second [set] too.
"I was repeating to myself during the whole match, I lost a lot of times here [in Melbourne] having chances, sometimes I was a little bit unlucky. I just wanted to keep believing until the end. I just wanted to give myself a chance.
"That's what I did. Just fight, just keep believing in trying to find a solution. Of course, I was lucky to save that moment. [There were] a lot of moments that can decide the final like this". Nadal will be among the top favorites to win the French Open. Nadal is a record 13-time French Open champion.
Leave a comment